6 Simple Ways to Begin Your Minimalist Life
What exactly is a minimalist life?
Minimalism is gaining popularity for good reasons – from helping with anxiety to saving money, it can be appealing to many. However, just thinking about a minimalist life can be intimidating.
Going from a cluttered home to having a clean, orderly, one may be something you really want, but seem absolutely overwhelming.
My minimalist life started about six months ago. The biggest thing I've learned from the past six months is that it truly is a journey. Minimalism is not something that you can accomplish all at once.
Minimalism is a mindset that you slowly adopt, then you see the effects in your home and life.  
I discovered these 6 steps in my own journey. They will help you begin your journey to a minimalist life, keep you focused, and help you maintain this lifestyle.
(this post contains affiliate links so if you make a purchase I make a small commission – Affiliate disclosure)
6 simple ways to begin your minimalist life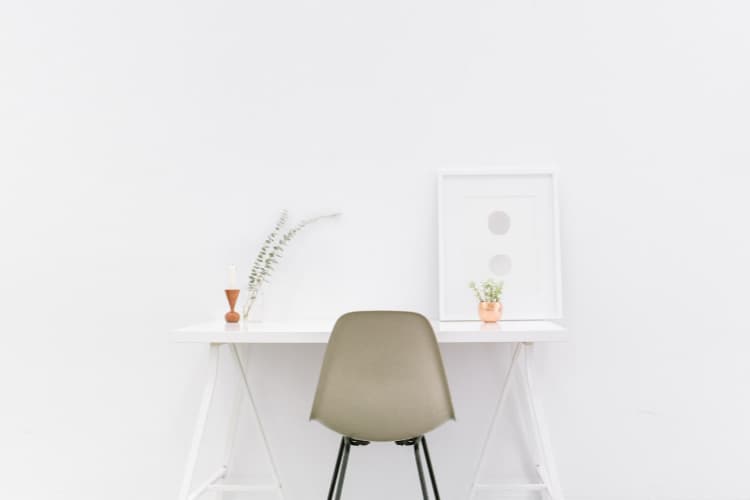 Find your motivation
At the beginning of the year, one of my New Year's Resolutions was "to become a minimalist." I was attracted to the clean look of minimalist bedrooms I was seeing on Pinterest. I was attracted to the natural light, white furnishings and plants. 
There was something about all the white space that was appealing to me.
After I started decluttering, I realized my motivation for wanting to "become a minimalist" was changing. Instead of wanting a really cute capsule wardrobe or clean bedroom, I found myself feeling more calm in our apartment.
When I walked into my closet, I was looking at clothes I liked and felt good wearing. In the kitchen, I wasn't having to constantly rearrange to get the one thing I actually needed. My apartment became a place of peace. I was seeing benefits from minimalism in my perspective on life.
It was impacting my stress levels at home; I found myself able to be more present with my daughter and less anxious.
Before you start on this new minimalist life, know why you are drawn to this movement.
Do you envision a clutter-free living space where you can do yoga or paint or read without the distraction of things that need to be done?
Are you tired of constantly cleaning up things you don't love or use?
Do you want to experience the freedom that comes with not being attached or controlled by your possessions?
Find your "why." Your "why" will help you when you are making hard choices about getting rid of things that you may have an emotional attachment to.  
Do an Experiment
A few years ago, my husband and I backpacked through the Himalayan mountains in Nepal. We hiked to the basecamp of Mount Everest and carried everything we needed on our backs. My wardrobe consisted of 2 hiking outfits and a pair of pajamas.
We stayed at tea houses in mountain towns along the trail with our Sherpa and local Nepalis. I can't remember how many times I thought to myself – "They have so few possessions, but they are the happiest people I've ever met." 
The people we met convinced me that material possessions do not bring lasting happiness.
When you start becoming a minimalist, it helps to do an experiment. For my husband and I, it was travelling overseas. I understand this isn't possible for many people; it will be different for everyone. If you can travel (to any destination), take a backpack with only 1 or 2 outfits.
You could go to a friend's house, or go camping, or you could set aside 1-2 outfits to wear for a week at home.
The point of this experiment is to help you realize how freeing it is to not have an overwhelming amount of options.  Once you realize how little you need, it's easy to let go of the excess.
Start Small
Doing an overhaul on all of your material possessions is overwhelming. I took Marie Kondo's advice and started with my clothes. In Marie Kondo's popular book, The Life Changing Magic of Tidying Up, she says to start with your clothes because it is easy to determine whether or not they "spark joy." 
Her method is to pile every piece of clothing that you own on the floor, or on your bed, then hold each item in your hand and see if it makes you happy.
First, piling all your clothes in one spot will help you to see how much you own. It was shocking to me. I was also surprised to find that I kept my clothes all over the house, not just in my closet. Second, it will also help you see the items that you never wear and that you won't miss.
I recommend starting with your closet because it's an easy way to get momentum. Once you realize how much lighter you feel after getting rid of things you don't actually wear, you will want to tackle other areas of your house.
Evaluate Everything
Despite what Marie Kondo says, I think it's ok to take your time decluttering. For me, it's been a process, and sometimes I repeat the process. 
The more I clean things out, the more I want to clean things out.  With that being said, it can still be really intimidating to think about every single item you own. I think it's smart to go in categories.
After my clothes, I did books, and then moved on to the kitchen. Since doing my initial decluttering, I have gone back at least once or twice and gotten rid of more. I think it's important to take the microscope to every drawer, every closet, and every box hiding up in the attic.
Do it in a way that feels life giving, not draining.  If it ever gets overwhelming, it's ok to take a break.
If there is a part of your home that you feel you resist decluttering, ask yourself, "Why?" Is there an emotional attachment to it? Is it a healthy one? What is it about this piece of clothing or book or artwork that makes me want to keep it?
Do the hard work. Once you have a room that is clean, orderly, and filled only with things you love and use, you will be grateful for the process.
One for One
After you have gone through the hard work of decluttering, it's important not to fill your home with things you don't need.  In our home, we have a rule that for every thing we buy, we need to donate at least one thing.
For example, if I buy a new shirt, I need to donate a shirt. This keeps clothes or household items from building up.
This will also help you evaluate if you truly need or want something new. If you are happy with all your belongings and don't want to get rid of anything, then you won't purchase anything new.
Practice Gratitude
The last step to sustainable minimalism is practicing gratitude. At first, this can feel uncomfortable or unnatural. After a few weeks of doing it, the benefits are not only real, but help re-frame your perspective.
There are several ways to practice gratitude. For some, a gratitude journal is helpful. At the end of each day, you jot down 3 or 4 things you are grateful for that day. In my family, we say out loud the things we are grateful for after dinner together.
Giving thanks for the things you already have instead of yearning for things you don't have changes your perspective. You will begin to see your clothes, furniture, books, and kitchen utensils as blessings instead of old and needing replacing. 
The journey to a life of minimalism
Minimalism is a journey. There is no perfect standard to attain. It is a series of individual decisions leading you to curate the perfect space for your unique personality and interests. Be true to yourself, dig deep when things get hard, and pursue simplicity.
About the Author
Becca Van Cleave is a writer with the case of the travel bug. She has lived in Europe and Southeast Asia, and is moving to Arizona with her husband and 1 year old daughter in July of 2019. She is a stay at home mom who dabbles in recipe-making and watercolor painting, while trying to curate a minimalist, peaceful home.  You can find her blog at Minimalist Mama and on Instagram as @_minimalist_mama_.