7 Crucial Tips to Help You Find an Awesome Accountability Buddy (and why you need one!)
I'll be honest, I had no clue what an accountability buddy was before I became an entrepreneur. It wasn't until I started joining awesome blogging groups that I discovered this term and what it actually was.
And then, my mind was blown. How did I not know about this sooner? I swear some days I got my head buried in the sand.
Anywho…
(this post contains affiliate links so if you make a purchase I may make a small commission-affiliate disclosure)
So what is an accountability buddy?
Good question and if you are anything like I was a few years ago, you probably have no clue. Don't be embarrassed. We all learn new things every day!
So an accountability buddy is a like minded person who keeps you on track with your goals, cheers you on, helps you any way they can, and in turn, all they ask is the same from you.
That's kinda it in a nutshell. They pretty much help keep you motivated and focused when you lose that. And, the best part of an accountability partner is that you may even make a new friend! Win win in my books.
The benefits of having an accountability partner
Oh they are too numerous to mention but I'll share a few benefits of having an accountability buddy with you now and how my latest one has helped me tremendously!!
Benefits of having an accountability partner:
they make you do shit
they check on you daily to make sure you do your work
they offer up tools that you maybe aren't aware of
they encourage you and cheer you on
they keep you on track with your goals
they share in your victories, and
lift you up when you're having a bad day
But these are just a few things they do. The list is endless!
How my accountability partner has helped me
I'll be honest right now, I've gone through 4. Not because I'm a bad person or a shitty accountability partner but because two couldn't handle reading my work (more on that later), one decided she didn't have time and was working on other things (and I really liked her too!!) and now my last one I have is a doll!
So I'm writing a book. A really deep, yet good book, about my life. My life hasn't been pretty. I've gone through so much that it boggles many minds. Some can handle the trauma, others, like the two buddies I lost, can't.
I've been sitting on this book for over 3 years now letting it collect Google docs dust. It was time to dig it out and get to work on it. Because of the past two accountability partners I've had, my book is almost done. They made sure I worked on it daily and made me report back to them.
That's the power of an accountability buddy. They make you work and hold you accountable.
Why you need an accountability partner
Are you the world's greatest procrastinator (like me) and sometimes need some hand holding in order to get things done? No shame in that at all. Many of us are resistent to doing the hard things because, well, they're hard and we don't wanna!!
Overcoming procrastination is hard af and can be frustrating too. We mean well, we really don't want to be procrastinators, we just are. You might like this article on how to overcome procrastination.
7 Effective Ways to Overcome Procrastination (and get shit done!)
Another thing that an accountability partner can do for you is share valuable tools and information that you aren't aware of. I love this part. We all know something that someone else doesn't know and it's our job to share it. Well, in my opinion anyway.
My latest accountability buddy introduced me to this mind-blowing video creating program. Invideo is friggin amazing. I am now just firing up my dead YouTube channel and Invideo has amazing templates for intro and outro videos. Check it out if you're a video creator too.
I also use it to make inspirational video poster quotes for my Pinterest account and my Facebook page. It's totally free but I picked up the monthly package for a super affordable $10 a month!
Remember, as a blogger, you have to pay to play which means, invest in your business!
So, in summary, you need an accountability buddy to keep you on track and help you smash your goals!
How to find an accountability partner
I'd like to say this part is easy but it kinda isn't. Remember I went through 3 and it's a little frustrating because you start up with your new buddy and then a few weeks down the road they come back and say "Oh I can't do this anymore" and then you're scrambling to find another one.
It kinda sucks to be honest but it's important to weed out the ones who won't resonate with you in order to find one who is perfect for you! The girl I have now is awesome and super helpful. She's on the other side of the world so when I wake up her day is almost half done but I can check on her and see how her day went.
Often I'll wake up and there's a message from her that's motivating and inspiring! I love it.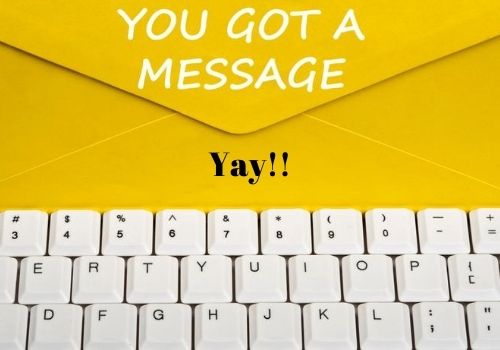 Anyway, the best way to find an accountability partner is first make sure you belong to good blogging groups where the members are very supportive and determined.
Here are 7 tips to help you find a good accountability buddy
Before I get to the 7 tips there's one thing I need you to know. As a blogger/entrepreneur it is of the utmost importance to join good blogging groups. If you're in one or two now, yay you! If the groups you are in suck, then leave and find better ones.
Blogging groups are where you can connect with like-minded women (and men too) who are on the same journey as you and who help each other grow, learn, and succeed. You need this kind of support. We all do.
You will also get access to lots of good blogging tools. When I started this blogging business I had no clue what I was doing. My blog was all wrong, my business was all wrong. Don't be like Iva.
Then I joined groups and purchased amazing blogging tools that helped me smash all my business goals. And FYI not all courses, eBooks and tools have to cost a fortune.
Here are a few that I found, bought and absolutely love!!
Stupid Simple SEO (while this one is a teeny bit pricey it's worth every single penny!!!!)
Find good groups and good blogging tools!!!
13 Affordable Blogging Tools You Should Invest In
1 Make sure you are both at the same level of blogging
Like you both have a basic concept of online entrepreneurship and a basic to intermediate level of blogging, otherwise you'll be spending more time teaching your buddy things and you might not get back the same in return. Now I don't mean that to sound mean but you want someone who's at your level so you both understand terminology, programs and how to apply things.
Yes we can learn from each other but you don't want someone who is totally clueless either or a beginner. With that said, if you are both beginners then you can both learn and grow together! And there's nothing wrong with that either.
2 Find someone who can commit
You want to make sure your buddy can commit to daily or once a week check ins (whichever is best for you) and that they won't leave you high and dry after a month or so. Whatever group you find your buddy in, you will be able to see from her/his posts how dedicated they are to their work.
You don't want a wishy washy accountability buddy. This will do you no good in the long run and eventually you'll just give up and not work toward reaching your goals.
3 Screen them well
Finding a good partner can take some work. It's kind of like hiring someone to work for you because they kinda are.
Ask a lot of questions in the beginning. I didn't ask enough when I first started which is why I lost 2. Let them know what your project or goals are and they'll be best to let you know if they can help you with them.
4 Check out their work
Go visit their blog or Pinterest/Instagram/Facebook accounts to see how consistent they are and maybe even how successful they are. Does their work resonate with you or do you have absolutely no understanding of it?
I'm not going to hook up with a person who is into art and photography because though I may be able to keep them motivated, there is no way I can help them with other blogging things and because of that, I don't feel I can offer value to them. It would make no sense for me to agree to be their accountability partner.
5 Ask around in some blogging groups
Put out some feelers and ask around in some of the better blogging groups you belong to about finding an accountability partner. If no one responds in one group, go to another.
Not all members of blogging groups want or need a buddy. Or they may not really understand what a partner does or the work involved. Type in the search bar in a group "accountability buddy" to see if this topic has already come up and check out the thread.
There may be someone in the group who still doesn't have one and they may be perfect for you.
6 Make sure they are positive and goal driven
You definitely don't want to hook up with a Negative Nancy who is just going to whine and complain all the time. Ugh. She will bring you down fast.
Find someone who has a good outlook on life and on their success. Someone who is just as driven, optimistic and determined as you are. I can't stress that enough. You want to look forward to your talks, not dread them.
7 Make sure your accountability buddy is also a whip cracker!!
You want someone who is going to push you to do your work and make sure you do it. You, in turn, should also reciprocate and make sure your buddy is doing her work too!!
It's fine to chat each day about your goals and such but you want someone who is actually going to make you do your work that you talked about yesterday. That is a true accountability partner!
A good accountability buddy will help you smash your goals
And succeed! Woot.
You know that one thing strong women won't do is ask for help because "we don't need no help", but we do. We're not superhuman and we can't do everything alone. For real
If you find yourself procrastinating and needing a little bit of motivation, do yourself a favour and go find a good accountability buddy. You won't regret it.
Here's to your success
xo iva xo