25 Best Entrepreneur Gifts That Won't Break Your Bank
Is it almost already time to start thinking about Christmas? Ooph!! Where on earth did this year go anyway? What a fiasco. In light of all the chaos happening around the world, I still try to make things light and fun, like shopping! Here is my list of the best entrepreneur gifts that won't break your bank.
I'm already thinking about Christmas because I'm hoping to make my way back to Guatemala by November of this year. I've been stuck in Mexico because the borders are still closed but the president announced that on September 18th, the airport will finally open and the country will open for tourists again.
Yay!! That's the best news and best gift ever for me!! So ya, I'm thinking about Christmas in Guatemala!
That'll be my Christmas gift to myself.
But what about the peeps on your Christmas list who happen to be entrepreneurs or bloggers. What the heck do you buy them? I'm gonna make this decision easy for you with this great entrepreneur gift guide, blogger gift guide, and awesome list with 25 gift ideas for the online working person on your list.
Gifts for bloggers and entrepreneur gifts
I'm gonna break this down into two categories simply because not all entrepreneurs are bloggers. Some entrepreneurs :
run Shopify stores
run Etsy stores
are Virtual Assistants
are Life Coaches
are online business and marketing strategists
And probably hundreds of more jobs that I don't even know about! But they're not all bloggers. So I'm going to share a blogger gift guide and then some great entrepreneur gift ideas that I think you might like.
Let's do gifts for bloggers first and then we'll get to entrepreneur gift ideas!
(this post contains affiliate links so if you make a purchase I make a small commission-affiliate disclosure)
Blogger Gift Guide
Before we get started I should make a note here. It costs a lot of money to blog and be an online entrepreneur. So many people think that all we need is a laptop and Wi-Fi and we're good to go. Well, yes and no.
There are tons of behind the scenes expenses that you may not be aware of. Monthly subscriptions to programs and tools to help run our blogs smoothly for example.
Monthly or yearly subscription
Now that you know it costs money to run a blog, one of the best gifts for bloggers you can possibly buy that won't go to waste is to pick up the tab on one of their subscriptions, whether it be pay for one month or cover the yearly plan! We will love you forever.
Many of the tools and plans allow you to purchase or pay for as a gift! If not, just write a pretty little Christmas card and tuck a note inside telling your blogging friend you are gifting them whatever plan or program for however many months.
Careful though. Don't be surprised if you get the biggest skishiest hug ever!!
And while some of these gifts for bloggers may not sound very exciting to you, trust me, they are super exciting to us!!
Ya, we're that easily excited!
Gifts for entrepreneurs and gifts for bloggers
We may seem hard to buy for but really we're not. So many people think we already have everything we need but we don't. And even if we do, most of our stuff is worn out, outdated or ugly (like we bought it at the dollar store back in our mac n cheese days).
We're like most people and have pretty much the same needs as everyone else. Almost.
But as I mentioned earlier, it costs us money to run a blog or be an entrepreneur and we can't always afford some geeky things. That's where you guys come in!
Here are a few examples and roughly what the costs are monthly/yearly:
My monthly plan for that is $16.95. So if you're up to covering that for 6 months it will run you a little over $100, 3 months will be slightly over $50.
As bloggers, we are not only writing but creating as well. Images, printables, eBooks, you name it, we're making it. It's just one of our many superpowers. Ha!
Another great tool that so many bloggers use is Tailwind for scheduling and sharing their content with others. Their price plans start as low as $10 a month. Cover 6 months for them and that's still only $60!
While not all bloggers use Tailwind, some wish to but it's simply not in their budget. Help them out for a few months to get them started on Tailwind and once their traffic grows and they start making oodles of money, they will be able to afford it themselves!
3 Site Hosting
For some of us, hosting plans are expensive af but a good host is so necessary to run our business smoothly. You could pick up a month of hosting for your blogger pal and give them a wee break for that.
I am now with Bigscoots and my plan costs close to $100 a month but there are other more affordable plans as well.
Either way, paying for a month of hosting is a super great blogger gift idea too!
Courses or educational material
Bloggers love to learn but are always so hesitant to fork out money for more courses, eBooks, and programs. It can be a lot for us. Some days we feel like we are just hemorrhaging money on education.
Why not buy a course or some other educational material for them. Trust me, it won't go to waste!! Here are a few of my favourites! I've purchased them, used them, and love them!
SEO Tools
This has become my most favourite SEO eBook ever. Jam-packed full of practical tips and so easy to understand. For a ridiculously low price of $37, this eBook doesn't fail to deliver valuable information. Your blogger pal will love you to the moon and back if you buy them this book.
The creator of this eBook, Debbie Gartner, also has other amazing eBooks all related to blogging, SEO, and so much more. You can check out her other ones and bundle up some of these eBooks by clicking here!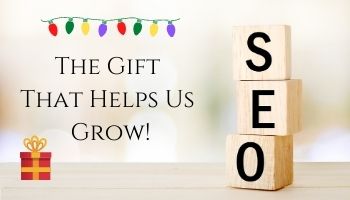 If you really really love your blogger pal and don't mind spending a wee bit more money on them, then this is the only SEO full and totally in-depth course they will ever need. I think the course now runs around $400 but I could be wrong. It's not cheap but it's def worth it.
This course along with Debbie's eBooks has helped me grow my traffic and outrank really high authority sites. So ya, your blogger pal will kiss the ground you walk on!
6 Special packages
Every blogger waits patiently for some of the biggest online shopping events that happen throughout the year for different tools and programs. AppSumo is our jam.
They randomly announce amazing deals on things we love and need. Why not give them a gift of Appsumo so they can grab the deal they love most!
Other blogger gifts and entrepreneur gifts too!
Let's move away from education for the next part of this guide and move on to some actual real shopping!! Yay!!
So we love planning and keeping notes and writing stuff out. All the time. We love our things neat and in order. Well, most of us do anyway. I'm still working on the 'in order' part. With that said, you can't go wrong with a yearly planner. You just can't.
Who doesn't love a good yearly planner? And who doesn't love Amazon? This yearly planner is colourful and easy to use. Your blogger pal will love this one. This is a great entrepreneur gift as well!!
These are another hit. Whether the person on your list is a blogger or an online entrepreneur, a whiteboard is a wonderful tool for them to use to jot out thoughts, ideas and monthly goals! Every blogger or entrepreneur should own one.
This is the one I have and I love it. It doesn't include markers so make sure you get those too!! I've linked both below.
And here are the markers!
9 Cool video/audio stuff make awesome entrepreneur gifts as well
Did you know that many bloggers also do Live videos and podcasts too? Yup, we sure do. Did you also know that good quality equipment is of the utmost importance for us? Yup. It sure is.
There are some things we can cheap out on. Audio/video stuff isn't something we can cheap out on.
Now while I said this is an affordable list, and some of the things may be a wee bit more money than you'd like to spend, please take a peek anyway just in case you love your blogger pal so much and money is no object when it comes to buying them Christmas presents!
Bluetooth speakers or a cool soundbar are great entrepreneur gift ideas. We always like to have music playing while we work.
Some things we may need/want are:
I have two. One for my Live videos and one for my podcasts. My lapel one was super affordable, the other was gifted to me (see my friends know!!).
The lapel one really does the job well and is easy on the wallet.
I also have one similar to the one below. Clear crisp sound and also pretty affordable. I like the one below because it comes with the arm and everything! That's super cool.
Video is also kinda important to many bloggers. Many of us have the opportunity to do interviews with other super cool bloggers and sometimes the camera on our laptop just doesn't cut it.
I have the one shown below, the Logitech C920. The quality is top notch! This one runs around $80 but there are so many others on Amazon for under $50 that are good!
Quality in the tools we use is so important for our business growth. It's necessary for us to have professional stuff, act like professionals and produce professional quality things!
Unfortunately so many of us just starting out simply can't afford these things.
We would love you to the moon and back if you put these on your Christmas gift list for us!
Who doesn't love Amazon? Guess what? Bloggers love it too. Why not give the gift of Amazon audibles. This way we can listen to all kinds of cool stuff – educational and motivational!
Sure there are lots of cool things we can listen to for free but Amazon has such an amazing selection of books, podcasts, shows, you name it, it's there.
And when all else fails, just get us an Amazon Gift Card and we'll be more than happy to do our own shopping!
And look at that pretty box too!
You may have heard us say often "we're burning the midnight oil". That's because many bloggers are mommy bloggers and they work at night while the babes are in bed.
A good desk lamp can be their saving grace. I have the one below and it's perfect for me (though I'm not a mommy blogger I do work late into the evening some nights).
Let's move on to some awesome and super cool entrepreneur gifts now…
Best Entrepreneur Gifts
Now it's not to say that entrepreneurs are totally different than bloggers, but they may have different needs and wants. They most certainly could probably use some of the blogger gifts listed above but there are also all kinds of neat things they may want too.
While there are so many different types of online entrepreneurs, I am going to try to keep this entrepreneur gift guide pretty simple and applicable to all entrepreneurs.
I'm doing my best to keep this entrepreneur gift guide affordable but some things we need cost a tad more than $50 and we think you have more money than we do and love us lots so you'll buy us nice things we really need to succeed. 🙂
We take notes. Lots and lots of notes. We write everything down and sometimes have several different notebooks for different projects. Please buy us notebooks and don't worry if we have too many. I promise, we don't. Ever.
This would probably be one of the best entrepreneur gifts in my opinion.
Yes, we drink coffee (or tea) and lots of it. We drink it so much our mugs get stained, old, and worn out. Please buy a new fun coffee mug like any of the ones below! These are actually from my own TeeSpring store. Check out these mugs and other cool things I've created.
Oh yes, please!! Sometimes it gets too noisy while we're working and can't even hear ourselves think! These awesome Bluetooth headphones will be dreamy. We can play soft music while we work and not hear all the ruckus going on around us!
Also super great for when we have to do interviews or podcasts.
Yes please!!! We don't always have a chance to work at a desk or sometimes we even bring our work to bed with us (like when we're sick in bed but still have to work). We would really love one of these awesome laptop tables!!
This one is affordable and has lots of room even to put our nightcap on it!
We travel a lot. Well, when we actually can safely. And sometimes we're stuck in airports and places and we need our stuff charged and maybe we don't have access to outlets. Or maybe we have a power outage and we're in the middle of a big project.
Whatever the case may be, a portable charger is like a gift of gold. Trust me on this. This one is lightweight and comes in under $30!
Oh how I love technology. Sometimes we're out at a park or a cafe without our laptops and still need to get a wee bit of work done. In walks in super cool virtual keyboard.
This is honest to God amazing and perfectly priced under $50. If anyone ever bought me this I would worship the ground they walked on. Look at how sweet this thing is!!!
Positive and empowering affirmations anyone? Hell-O!! Who wouldn't want these in their office? It's tough working from home all day and being so wrapped up in work so when we look away from the screen it would be nice to see some uplifting reminders about why we do what we do!
It kinda keeps us focused and motivated!
Read those!! Don't you feel like taking on the world now?
Can I be on your Christmas gift list, please?? As you know, we're sitting at a desk some days up to 12 hours. We also don't have time or money to get a professional massage.
This should do the trick! You'll probably want one for yourself too. I know it. Best part? It's under $50! Yay.
If you know us at all, we bring our laptops almost everywhere we go. Some of us have laptop bags, the rest of us don't. Or maybe we have one but it's seen much better days and we're too cheap to replace it.
Can you buy us one please? Check out this beauty for under $50.
24 Herbal Teas (when we're tired of coffee)
Ya, that happens sometimes. We get tired of coffee and want something more mellow to drink while we're working. You can't go wrong by gifting us a lovely set of herbal teas.
Trust me, we'll try them all! 25 flavours and caffeine-free? Yes please!
Yes. We still do write, with pens, on actual paper. It's not all on computers contrary to popular belief! I can't tell you how many pens I go through in 6 months. It's ridiculous.
If you buy us pens we will love you and write you love notes. And if you buy us this super fancy pen and pencil set it will also help us feel more professional and rich! Yay.
Entrepreneur gifts for any time of the year
While these are all great Christmas gift ideas, honestly you can buy them any time of the year! Any holiday, any occassion. Or even just buy us something nice to say I love you I'm proud of you and I think you're awesome.
We'd like that alot! Ha!
Some people say it's hard to find entrepreneur gifts or know what kind of gifts for bloggers to buy but honestly, we just like super geeky stuff, tea, wine and massages.
Kinda like you.
I hope this blogger gift guide and the entrepreneur gift guide gave you some good ideas! I tried to keep all gifts as affordable as possible but let's face it, you ain't all poor like we are! Ha!
Hey. Am I on your Christmas list? 😉
xo iva xo