13 Best Blogging Tips To Help You Succeed (and smash your goals!)
So you want to be a blogger? Excellent decision. When I first started blogging I didn't have a single solitary clue as to what I was doing. Nudda. No one gave me any blogging tips nor did I even know what the heck SEO even was or how to properly format a blog.
I've come a long way since then and though I'm no blogging expert, after a couple of years of hard core research and reading blogs til my eyes bled, I could say I'm definitely finally on the right track. Phew.
(this post contains affiliate links so if you make a purchase I make a small commission-affiliate disclosure)
Blogging for Business or Fun
One question you must ask yourself is this: Am I blogging for business, for fun or as a hobby?
Once you figure out what the purpose of you starting a blog in the first place was for, then you'll know how much or how little time you want to spend on it and how seriously you want to take it.
If you're only doing it for fun, then carry on BUT don't forget the potential that awaits you to actually make money from blogging!! Goodbye sh*tty 9-5 job!!
If you are doing it because you want to make a living from your blog then you must work it with all your might.
Blogging Mistakes I Made in the Beginning
Here's the Reader's Digest version of my blogging history.
I started back in 2012 with a pathetic Feng Shui blog sharing tips on how to improve your life with this practice. I had good intentions, however I had no direction and also was not connected online to any other bloggers to get valuable tips on blogging.
A few years later I went through a total life transformation (more on that in another post) and switched my niche and my website to self help. You can find it here Amazing Me Movement.
I finally had direction but still no idea how to blog properly. I was sharing my blogs on my quickly growing Facebook page and they seemed to get quite a bit of engagement.
All good, but remember, I was still not doing this blogging thing the right way. I needed help and needed to learn blogging for beginners and I was ready to find all the help I could get.
When the student is ready, the teacher will appear.

Buddhist proverb
I now have two sites, this one and the one mentioned above, and to be honest, I didn't really start implementing best practices for this site until March of this year (2020) when I decided to take it really seriously. You'll see what I mean in some images/charts below.
So let's get to some of the best blogging tips for beginners I can give you so you don't make the same blogging mistakes I made and you can smash all your goals! Woot!!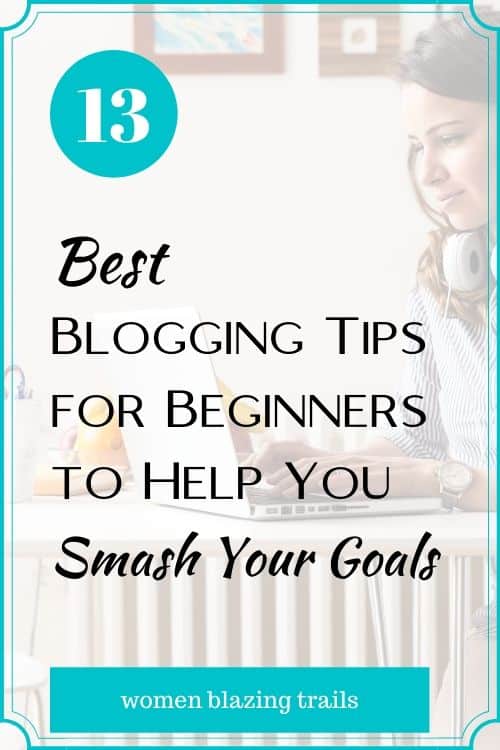 13 Best Blogging Tips For Beginners
1 Connect with other bloggers.
It is crucial to network with other bloggers, no matter what their niche is, to learn from each other and help each other grow.
I have learned a poop ton of things from two awesome Facebook groups that I joined a little over a year ago. One is a private group (more on that later) and here's the link to the other one Blogger Education Network. They are both no-nonsense groups. Everyone is in there to learn, grow, and collaborate.
Word of warning-don't join Facebook groups for share for share threads. It's such a waste of your time. Trust me on that. Please don't do that.
As I mentioned above, I was clueless about blogging and didn't take it too seriously. I had no clue of the potential there was for actually making a living blogging.
I was also still working my regular job and not really putting much effort into my website or blog when I first got started.
I feel it's important to read as many blogs as you can or even sign up for free email courses on blogging tips for beginners. Another word of warning though-only read and follow bloggers who are successful and genuine! Like you need to feel them, know what I mean?
2 Sign up for free stuff
Sniff out bloggers who have had tremendous success in their blogging business and sign up for their free email courses on blogging for beginners or whatever courses they have. Some of them offer amazing blogging tips cheat sheets (pdfs) and other cool things like that (like mine!).
Grab them!
Doing this was one of the most valuable things I ever did. I learned so much. Word of caution though, don't sign up to too many because then you will be overwhelmed with information and some of it may be conflicting. I chose a few and went from there.
Some of the successful bloggers I started paying close attention to were:
3 Treat your blog like a business
Don't half a** it. If you want to make money from blogging then you must pour your heart and soul into it and treat it like you do your actual job. Because it is a job.
If you remember, when I first started out I didn't know what I was doing and still working my full time regular job. When I decided I wanted more from my blog I put in the hours, long hours, lots of hours.
But it all paid off in the end.
Block off time from your already busy and hectic schedule to devote to your blog. Commit to it and put the work in. Your blog has the potential to make money and lots of it!! Put in the time and work. It will all feel exhausting and frusrating in the beginning but soon you will reap the rewards of all your hard work.
You'll see.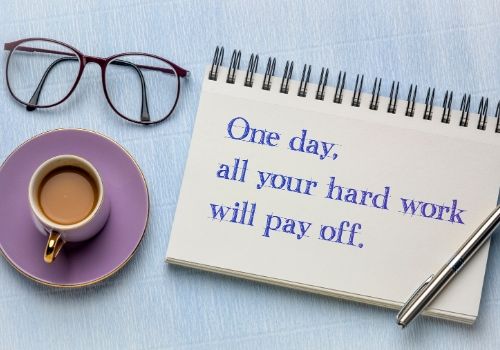 4 Learn SEO
SEO was my nemesis. I didn't even know what it meant or how crucial it was to the success of my site. I was so naive. Don't feel bad if you are unsure. Many new bloggers simply don't know or understand the value of SEO.
You need to learn and understand the value of keywords, how to use them, where to put them and where to find them. I can't stress how important this is. If no one is searching for what you are writing about, then what's the point.
To be honest, I don't pay for a keyword tool (though many do and that's cool). I use good ole' Google search for keywords and ideas. It's pure gold
In order for me to learn SEO, I read and devoured all kinds of cheat sheets to pick up some blogging SEO tips. What I found to be the most valuable was to actually purchase an SEO course and an eBook.
Some of them are quite expensive and when we first begin we don't really want to spend money on our blogs, but trust me, you need to. Remember this is a business and purchasing the right courses will pay for themselves in the end.
I've listed below in blogging tip #5 all the courses and eBooks I purchased that helped me grow my business.
5 Invest in your blog.
Don't be afraid to spend a little bit of money on education and/or the right tools you will need to get your blog up and running smoothly and successfully. You will need plugins and while some are free, some aren't. You've heard the term 'you gotta pay to play'? Well it's true. You really should.
I will share some of my favourite tools here.
You will need a good and reliable host for your site. I started out using Siteground but my site has grown so much I am now with Bigscoots. Both hosts are amazing.
You will also need to learn about SEO. I love Mike Pearson's Stupid Simple SEO course (his private Facebook group is the one I mentioned earlier). Click on the link and check out his webinar. This course saved my blogging butt and helped me grow this blog immensely. Have a look at the images below to see what I mean.
The first image is from when I started this site in September of 2019 with no SEO training at all :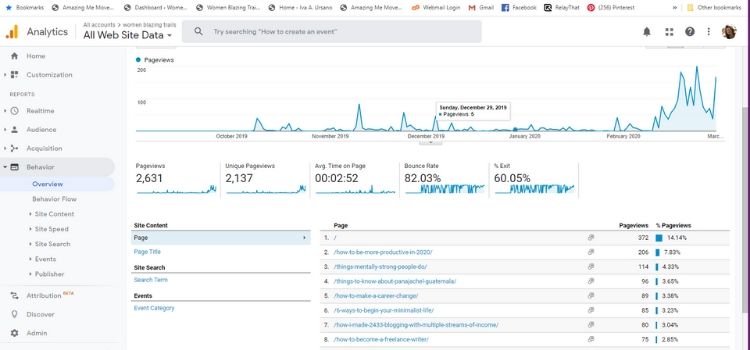 You can see in February things started to pick up. That's because I was starting to learn some blogging tips and tricks and actually applying them!!
After some blood, sweat and tears, here's where we are now: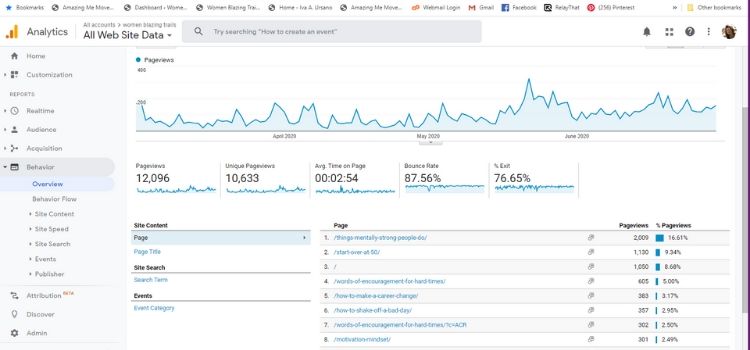 This is after applying things I learned from Mike's course and also Debbie Gartner's eBook Easy On-Page SEO. I still have a lot to learn and a long way to go but I'm happy with my progress so far.
Debbie's eBook is packed full of amazing SEO tips to help you rank your blogs and succeed! I'm glad I made that investment too!!
Another successful blogger I follow faithfully is Tracie Fobes. I adore her and her wealth of knowledge is so much appreciated. She is as sincere and smart as they come. I have taken a few of her courses and they are easy to follow and understand and also easy on the budget.
Here are a couple of links to the courses I have taken. She has several courses so go check them all out.
Blogging Playbook (super amazing course!!)
6 Learn proper blog format
I'll share an ugly secret with you right now. I didn't even know how to properly format the title. Oy.
The Title of Your Blog Should Look Like This. The title of your blog shouldn't look like this.
Do you see the difference?
Here are a few blogging tips on how to write a good blog:
Break up paragraphs in bite-size chunks. 2-3 sentences per each paragraph.
Insert keywords strategically but don't stuff them. They should flow with the text
Add high-quality images but make sure you use a compression plugin to shrink them (Short Pixel is a good one and the one I use)
Aim for at least 1500 words-some of my blogs are over 3000 words (like this one)-offer great value!!!!
Give tremendous value. YOU are the expert in what you're talking about. Act like it!
Put keywords in title, meta description, and your permalink
If you are using an affiliate link you must have an affiliate disclosure (you can see mine above)
make sure your font is easy ( 16-20 px is ideal) to read and no fancy scripty stuff (ick)
I suggest to take some time and go have a look at what successful bloggers are doing and how they format their blogs. There's a lot to learn just by researching and reading other people's blogs.
7 Proofread before you hit publish
There is nothing, and I mean nuh-thing, more annoying than seeing a bunch of typos in something I'm reading from a so called expert. Please double and triple check your work to make sure there are no errors. That is one thing that will surely turn a reader off and not want them to return to your site.
Bad bad bad. We want peeps to keep returning, amirite? Take the time to check it over and maybe even share it with a friend who has an eagle eye for typos.
You want to put out good work!!!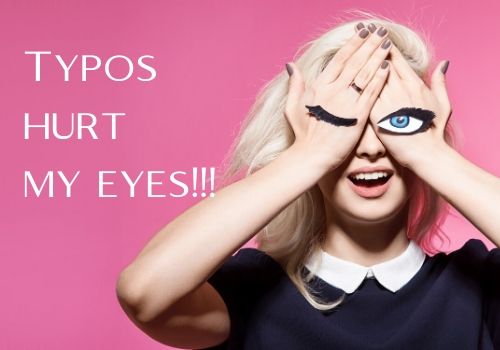 8 Make sure your title grabs their attention
Let's take an example here to show you what I mean:
13 Tips to Help You Make Money Blogging

13 Powerhouse Tips to Help You Explode Your Blogging Business
Honestly, which one would you click on? Maybe both but more likely you will click on #2 (that's the one I'd click on). Grab your reader right from the get go!!
What problem of theirs are you solving? What pain point are you trying to hit? Make it hit hard (but don't hurt them!!).
I use a free and simple tool called Co-Scheduler to help me with good blogging titles. Check it out and use it. It'll be your new best friend.
9 Set realistic goals
Don't go into blogging thinking you're gonna make 6 figures in 6 months. You won't. Very few actually do. Make sure you set realistic goals for yourself.
I have a mindmap on my wall and I set goals that are super achievable. You should do this too. I usually shoot for goals that are 6 months in the future, this way I'm ready to adjust plans as I have to in order to grow my business.
When you set goals that aren't realistic you are setting yourself up for disappointment and failure (and man I hate that eff word). When this happens, you will give up and feel defeated.
Keep your goals attainable!!
This is what my mind map looks like right now. It's a little sparse at the moment and though I do have a long term goal on there, when I see it, it keeps me focused on why I am doing all this in the first place.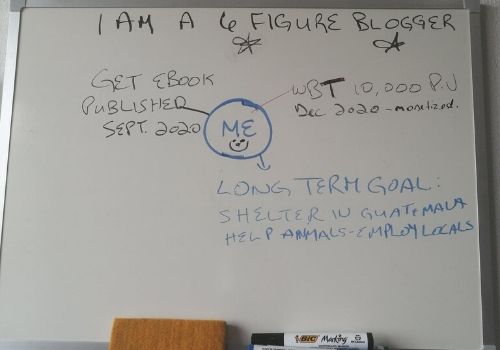 10 Be consistent
I know some of you probably have kids at home or are still working full time at your other job so it can be hard to find the time to work on your blog but you must remain consistent.
Many bloggers say to put out fresh content 2-4 times a week. Personally I think 4 times a week is a bit much unless you have plenty of time to write up that much stuff, then kudos to you.
Most of us don't. I aim for at least one a week and in a good week I can put out two. I'm also running two blogs (and all the social media accounts that go with them) so I don't have a bunch of time to write up to 4 blogs a week.
If you can put out at least one new blog a week, you're doing great!!
11 Listicles and how to's do best
Everyone loves a good 'how to' blog post or a listicle. We want to know how to fix our problem in xx number of ways or 'how to' achieve or fix something.
Google loves them too! And they are pretty easy to come up with. Head into Google search bar and find out what people are looking for in relation to the topic you want to write about. Then go peek at the top 5 blog posts to see what they look like and how they made it to the first page.
Word of warning-please don't copy the top blogs, but instead, learn from them and make your blog on this topic even more epic than theirs. I've hit the top spot with this blog, way ahead of the likes of Forbes and Huffington Post just by making my blog better.
If I can do it so can you (too cliche?)!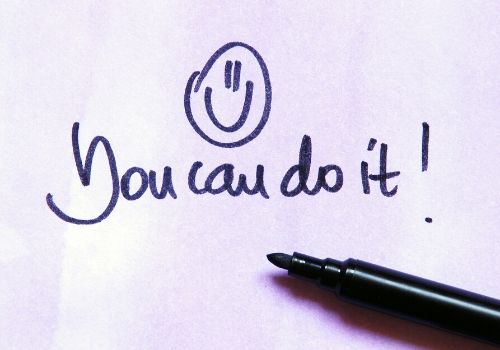 12 Read other blogs
Like I just mentioned above, it's so important to read other blogs on the topics you want to write about and find out what makes them so special. Can you do better?
Of course you can!!
Take a look at their blog format, what kind of pictures are they using, how long is it, etc. Yes it will take some time to do this but don't you want to rank your blog, make money blogging and succeed?? Yassss you do!!!
Make the time to check out the top 5 on Google. Thank me later!
13 Make your main blog image stand out
You've heard a picture is worth a thousand words right? Well a good main image on your blog is worth a thousand visitors. Ok well I don't really know that for sure but you gotta make sure your image stands out and catches the reader's eyes.
You have like 3 seconds to get their attention with your blog title and image. Make sure it does that.
I get my images from Depositphotos and love them. Every now and then AppSumo puts out a good deal on packages for Depositphotos. I usually find out about these deals from blogging groups (which is why it's so important to be in GOOD blogging groups!!)
If you don't have it in your budget yet to buy a photo package, you can grab photos from places like Unsplash and Pixabay. Both are super good! And free (I love that eff word!)
Final thoughts and a few more blogging tips
Whether you are doing this as a hobby or to make money, keep in mind why you started it in the first place. Some hobbies quickly turn into a full-time income. You'd be surprised.
Treat this like your business if you're in it for money and always remember, there is absolutely NO shame in doing it for money.
You have a skill, talent or knowledge in something that you want to share with the world. You should be compensated for that. Period!
One other thing I forgot to mention in this list of blogging tips is that sharing your stuff is crucial! Finding the right platform is even more crucial.
Where is your audience hanging out? This will take some time to figure out but be patient while you are testing them all. My peeps are on Pinterest and Facebook. It took me awhile to discover that.
I've taken my Pinterest account from 0 followers in January 2018 to 165K followers as of today's date (July 2020) and I usually add around 2K followers a week. Not bad for someone who had no clue what she was doing with Pinterest 2 years ago!
I also use Tailwind to share a lot of my work on Pinterest. Tailwind is an amazing scheduler for sharing and also a place where you can connect with other 'tribes' to get more eyes on your stuff!
I know this all sounds so overwhelming and so many give up after the first 6 months because it seems so hard or pointless/frustrating. It's not.
Stay the course. Have faith. Put in the work. And watch your blogging business grow. I'm not one of those 5 figures a month bloggers but I make a decent living blogging.
And to think just 6 years ago I was a hairstylist in a salon in a mall in Northern Ontario Canada working to build someone else's dream and here I am today living MY dream life in sunny Mexico.
If I can do it, so can you.
xo iva xo