15 Best Keto Diet Books: Tips, Tricks, Tasty Recipes and More!
If you've been thinking about starting the keto diet and not quite sure where or how to begin, this article will surely help you. I am going to share 15 of the best keto diet books I could find.
Before we begin, it's important to know a few things about the keto diet but most importantly, please keep in mind I am not a doctor or nutritionist or health advisor.
Please check with your doctor first before trying or changing your daily diet!!
While the keto diet definitely has some awesome benefits, it's not for everyone. Do your research and some testing before you start please.
The ketogenic lifestyle is quite difficult to maintain, for me anyway. You have to completely revamp your entire eating plan, foods, drinks, everything. It's not for the faint of heart and the word discipline comes to mind here.
It will require a ton of discipline to stick to it.
But if you can stick to it, it's definitely worth it. Here are just a few health benefits of the keto lifestyle. According to healthline.com, low-carb diets
lead to weight loss
reduce your appetite
increase good cholesterol
reduce blood sugar, and
much more.
Check out the link just above and read the article. It's quite informative.
Now when starting the keto diet it's important to be well educated on the topic. I'll say it again. Do your research. What you read may be good info for men between the ages of 25 and 35 but….you're a woman over 50.
Things are kinda different for us.
To help you with your research, I found 15 of the best books for the keto diet. These books should help you get started.
Most of these books will include:
delicious recipes
meal plans
helpful shopping lists
best way to get started on your new diet plan
info on intermittent fasting (should you want to try that too)
and so much more!
(this post contains affiliate links so if you make a purchase I may make a small commission-affiliate disclosure here)
My Experience With the High-Fat Low-Carb Diet
I'll confess, while I do try to stick to a low carbohydrate diet, it's very difficult for me. I love food. A lot. And I'm Italian.
Know what that means? Ya.
No pasta, no bread, no potatoes (that means no sweet potatoes either), no cookies (cakes, donuts, nudda), no sugar. Yup. When I say it's difficult I'm not joking.
For now, I do my very best to stay low carb/high fat diet. I've found many decent substitutes for most of my favourite foods. The rest I just do without.
Here's my first blog about it
My Keto One Month Progress: The Highs and the Lows
and here's another one
My Hilarious Look at the First Week of Keto
I'm always experimenting with different foods as well as trying to find the best keto-friendly recipes. I'm not perfect, but at least I'm trying to eat healthy because I know it will have a positive effect on me as I age.
Let's move on.
If you do a Google search on the best ketogenic diet books your search will turn up a million. I know, it's a lot. And who the heck has time to read all the reviews, find out which ones have all the information you're looking for, are they top rated, etc.
I've done the research for you and came up with these top 15 and I even threw in a keto diet cookbook for you too! I'm here with you on your healthy living journey and hope this article can help even a little bit!
Without further ado, here we go
15 Best Books on Keto Diet
In first place, though I'm not sure I'd say this is the best keto book, it has rave reviews and that's always a good thing! This book is a complete guide which imo is great for beginners.
1 The Complete Ketogenic Diet for Beginners: Your Essential Guide to Living the Keto Lifestyle by Amy Ramos
2 Keto Clarity: Your Definitive Guide to the Benefits of a Low-Carb, High-Fat Diet by Jimmy Moore and Dr. Eric C. Westman 
3 The Keto Diet: The Complete Guide to a High-Fat Diet by Leanne Vogel
4 Simply Keto: A Practical Approach to Health & Weight Loss with 100+ Easy Low-Carb Recipes by Suzanne Ryan
5 Keto Comfort Foods by Maria Emmerich
6 The Keto Reset Diet: Reboot Your Metabolism in 21 Days and Burn Fat Forever by Mark Sisson
7 The Case for Keto: Rethinking Weight Control and the Science and Practice of Low-Carb/High-Fat Eating by Gary Taubes
8 Unlocking the Keto Code: The Revolutionary New Science of Keto That Offers More Benefits Without Deprivation by Dr. Steven R. Gundry MD
10 Keto Diet: Your 30-Day Meal Plan to Lose Weight, Balance Hormones, Boost Brain Health, and Reverse Disease by Dr. Josh Axe
11 The Easy 5-Ingredient Ketogenic Diet Cookbook: Low-Carb, High-Fat Recipes for Busy People on the Keto Diet by Jen Fisch
12 The Complete Guide to Ketogenic Diet for Women Over 50: Useful Tips and 470 Delectable Recipes 30 Days Keto Meal Plan to Shed Weight, Heal Your Body, and Regain Confidence by Sandra Grant
13 Keto Diet For Dummies by Rami Abrams, Vicky Abrams
14 Easy Keto Diet for Beginners: A Complete Guide with Recipes, Weekly Meal Plans, and Exercises to Kick-Start the Ketogenic Lifestyle by Frank Campanella
15 Keto Diet for Beginners: 30-Day Keto Meal Plan for Rapid Weight Loss. by Amy Crenn
Amy Crenn, a healthy eating expert and author of this all-inclusive keto book and Suzanne Rodriguez, an accomplished chef, will help you delve into the secrets of world-known ketogenic diet and lose weight fast, easily and- the most important- the delicious way!
EASY-TO-FOLLOW: Unlike other dull ketogenic diet books for beginners, this ketosis cookbook is divided into separate thematic categories, making a pleasant & easily followed guide on keto for women & men of all ages.
EVERYTHING YOU NEED TO KNOW ABOUT KETO: every single chapter of this keto cook book is dedicated to a different theme. Find out if you have food intolerance, get precious tips & guidelines on the right keto lifestyle, learn the truths & myths around keto diet and much more.
Meal Planning Journal
While I was searching for the best keto diet books I came across this food journal that I think you should check out. This will help you track your food, times, and so much more.
Keto Diet Journal for Beginners: Macros & Meal Tracking Log Ketogenic Diet Food Diary by Enchanted Willow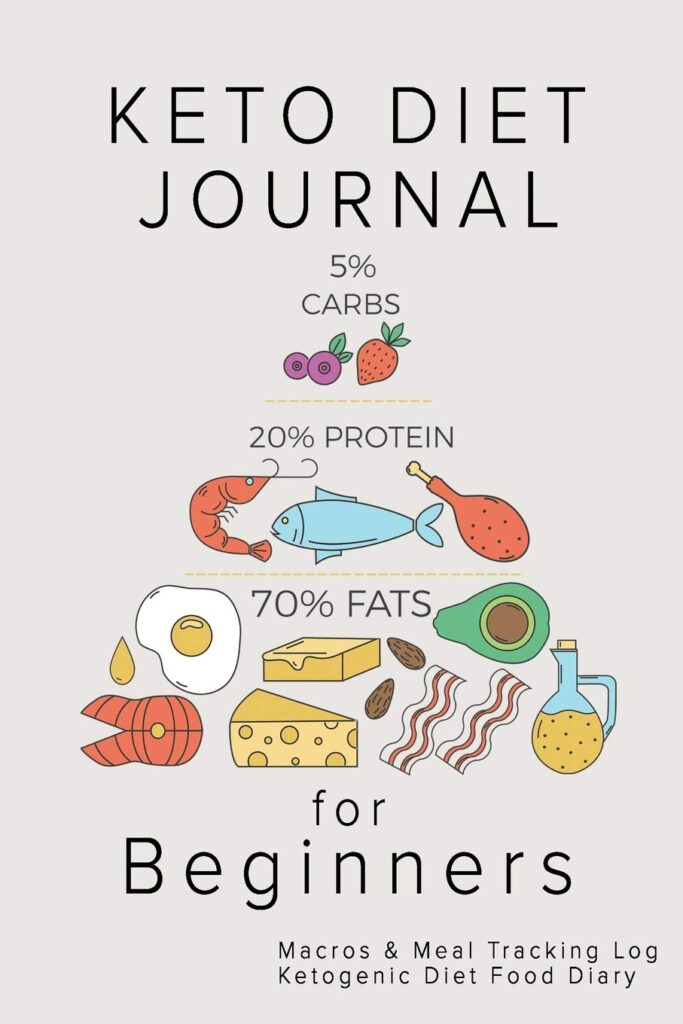 This food journal is your secret weapon with space to:
Log the foods you eat for breakfast, lunch, dinner & snacks.
Track your protein, fat and carb macros for each meal.
Record your daily water intake to stay hydrated & flush toxins
Mood trackers to remember how your meals affected you.
Record your sleep quality to balance out your circadian rhythm.
Stay motivated using your 14 Week progress tracker for weight loss and body measurements.
Discover your perfect foods to stay in the hunger-free zone by recording your craving levels.
Summary of the Best Books on the Keto Diet
I hope you liked my round up of the best keto diet books. They all have a little bit of everything from tasty recipes to the science behind keto and understanding how it works.
If you have any keto books that you really love, drop the titles down in the comment section below!
And as always, please share. Sharing is caring!
ox iva xo