55 Calming Quotes For Anxiety and Stress
Sometimes, life throws things at us to stress us out and cause some anxiety. Today I want to share with you 55 calming quotes that will help you chill out during those stressful times.
I don't know about you, but as a woman over 50, I sometimes have bouts of anxiety and stress that can be overwhelming. Believe it or not, I use positive affirmations, anxiety quotes/stress, and quotes/calming quotes to help me get through these periods.
What Things Cause Anxiety and Stress?
Many things can cause us anxiety and stress, such as:
Breakdown in marriage
Job loss/retirement
Moving to a new city/country
Financial troubles
Relationship/family problems
According to AAGP
The stresses and changes that sometimes go along with aging—poor health, memory problems, and losses—can cause an anxiety disorder. Common fears about aging can lead to anxiety.

Source: AAGP
These are all real issues that can sometimes be hard to deal with, and while there are trained professionals to help us with these, not everyone can afford therapy. I really believe in the power of inspirational quotes.
Calming Quotes Can Help You Get Through Tough Times
They have gotten me through some of the hardest times of my life. Especially when I hit rock bottom and had to start my life all over again.
I was 52 years old and scared out of my tree. I had never felt so alone and so helpless and hopeless. I was sure I couldn't go on and that I could not start over at 50.
But I did it, and believe it or not, it was reading a lot of quotes for hard times that got me through.
You might also really like this blog from my site:
75 Words of Encouragement For Hard Times
No matter what you are going through right now, I hope these calming quotes help you, give you some peace and reduce your anxiety and stress.
55 Calming Quotes to Reduce Anxiety and Stress
Without further ado, here are 55 of the best calming quotes I could find to help you reduce your anxiety and stress. I hope they do help you.
1-10 Calming Quotes by Famous People
1 Calm mind brings inner strength and self-confidence, so that's very important for good health. ~ Dalai Lama
2 Don't try to force anything. Let life be a deep let-go. God opens millions of flowers every day without forcing their buds. ~ Osho
3 To be calm is the highest achievement of the self. ~ Unknown
4 Trust yourself. You've survived a lot, and you'll survive whatever is coming. ~ Robert Tew
5 Right now, I am trying to be in a place of calm, a place where I can chill out and then handle the chaos of life better. You don't just get it overnight; you have to work at it. It's a daily struggle. ~ Jackee Harry
6 After a storm comes the calm. ~ Matthew Henry
7 Panic causes tunnel vision. Calm acceptance of danger allows us to more easily assess the situation and see the options. ~ Simon Sinek
8 There is only one way to happiness and that is to cease worrying about things which are beyond the power of our will. ~ Epictetus
9 You must learn to let go. Release the stress. You were never in control anyway.~ Steve Maraboli
10 You've already survived 100% of what you've been through. Take a deep breath and remember, you got this. ~ Iva Ursano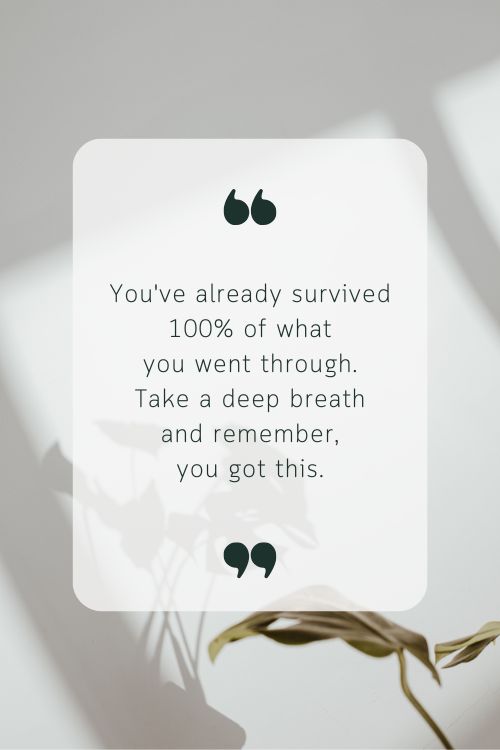 11-20 Calming Quotes For Stress and Anxiety
11 Worrying does not take away tomorrow's troubles, it takes away today's peace. ~ Unknown
12 Our anxiety does not come from thinking about the future, but from wanting to control it. ~ Kahlil Gibran
13 No amount of anxiety can change the future. No amount of regret can change the past. ~ Karen Salmansohn
14 Hey you, keep living. It won't always be this overwhelming. ~ Jacqueline Whitney
15 You have to be strong and calm to overcome difficult moments. ~ Dani Alves
16 You may not control all the events that happen to you, but you can decide not to be reduced by them. ~ Maya Angelou
17 Anxiety does not empty tomorrow of its sorrows, but only empties today of its strength. ~ Charles Spurgeon
18 Don't let people pull you into their storm. Pull them into your peace. ~ Kimberly Jones
19 Give your stress wings and let it fly away. ~ Terri Guillemets
20 There is a calmness to a life lived in gratitude, a quiet joy. ~ Ralph H. Blum
21-30 Calming Quotes For Anxiety
21 Within you, there is a stillness and sanctuary to which you can retreat at any time and be yourself. ~ Hermann Hesse
22 Rule number one is, don't sweat the small stuff. Rule number two is, it's all small stuff.~ Robert Eliot
23 Set peace of mind as your highest goal, and organize your life around it. ~ Brian Tracey
24 Stay centered by accepting whatever happens to you. This is the ultimate. ~ Chuang Tzu
25 People should learn how to just be there, doing nothing. ~ Thich Nhat Hanh
26 Some time in your day today, try to turn off all the noises you can around you, and give yourself some 'quiet time.' In the silence, let yourself think about something. Or if possible, think about nothing. ~ Fred Rogers
27 You don't always need a plan. Sometimes you need to breathe, calm down, look around, and improvise. Creativity is the key of life. ~ Paulo Coelho
28 Every time you are tempted to react in the same old way, ask if you want to be a prisoner of the past or a pioneer of the future. ~ Deepak Chopra
29 You can't always control what goes on outside. But you can always control what goes on inside.~ Wayne Dyer
30 It's OKAY to be scared. Being scared means you're about to do something really, really brave.~Mandy Hale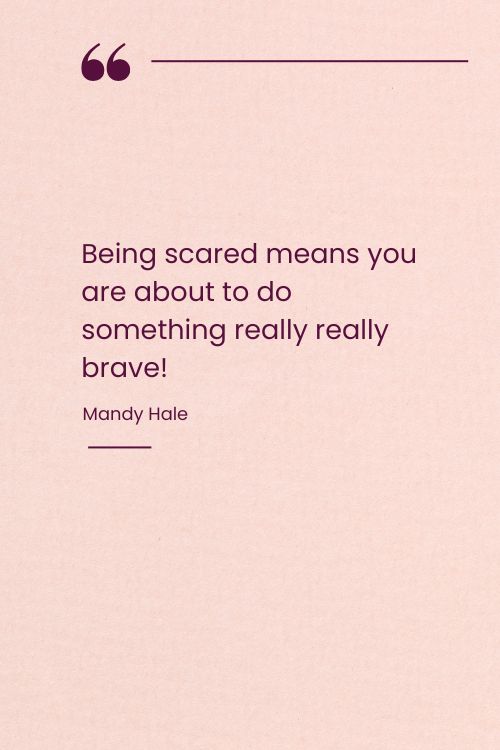 31-40 Calming Quotes For Troubling Times
31 When you calm your mind, life becomes crystal clear. ~ Unknown
32 Slow Down, calm down, don't worry, don't hurry. Trust the process. ~ Alexandra Stoddard.
33 The more tranquil a man becomes, the greater is his success, his influence, his power for good. Calmness of mind is one of the beautiful jewels of wisdom. ~ James Allen.
34 You don't have to control your thoughts. You just have to stop letting them control you. ~ Dan Millman
35 Everything you have ever wanted, is sitting on the other side of fear. ~ George Addair
36 Nothing can bring you peace but yourself. ~ Ralph Waldo Emerson
37 Not everything that weighs you down is yours to carry. ~ Unknown
38 If you can't fly then run; if you can't run then walk; if you can't walk then crawl, but whatever you do you have to keep moving forward. ~ Martin Luther King Jr.
39 After every storm comes a rainbow. Storms don't last forever. ~ Unknown
40 When you change the way you look at things, the things you look at change. ~ Wayne Dyer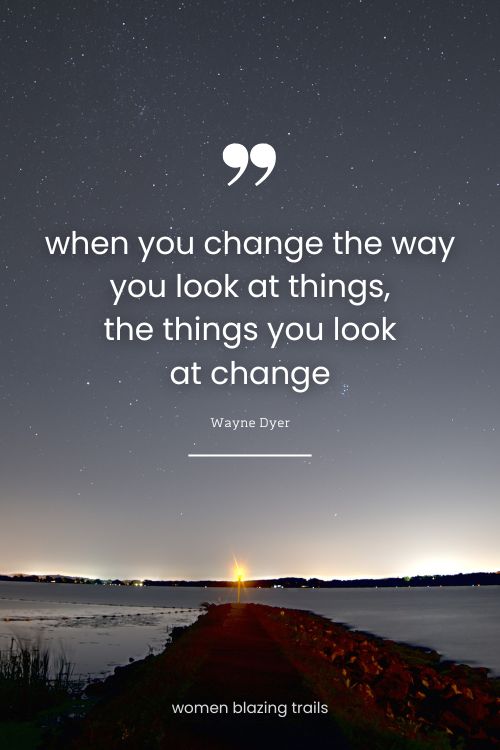 41-50 Quotes For Stress and Anxiety
41 Breathe darling. This is just a chapter. It's not your whole story. ~ S.C. Lourie
42 Worrying is like walking around with an umbrella waiting for the rain. ~ Unknown
43 Stress is self-created, I decided to stop manufacturing it. We can choose an internal calm and joy even amid the chaos. ~Brendon Burchard
44 It's ok to not be ok ~ Unknown
45 Change is hard at first, messy in the middle, and gorgeous at the end. ~ Robin Sharma
46 Most of your problems would be solved if you stopped overthinking and calmed down.~ Unknown
47 If you keep running from your problems, they will continue to chase you ~ Unknown
48 The battle to put your past behind may never end. Stay strong ~ Unknown
49 What if, everything you are going through is just preparing you for what you asked for? ~ Unknown
50 At the end of the day, tell yourself gently: 'I love you, you did the best you could today, and even if you didn't accomplish all you planned. I love you anyway'. ~ Unknown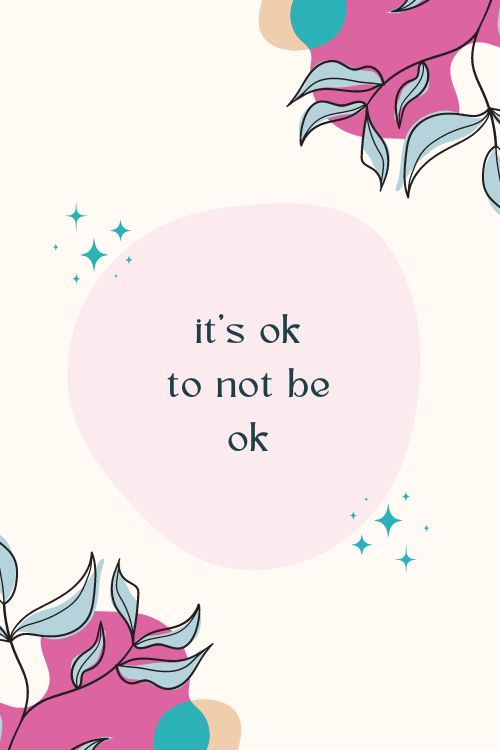 Final Five Calming Quotes For Anxiety and Stress
51 Good things happen, love is real, you'll be ok. ~ Unknown
52 I've learned as time passes, all the things you are afraid of will come and they will go and you'll be alright. ~ Stevie Nicks
53 Growth is painful, change is painful but nothing is as painful as staying stuck somewhere you don't belong. ~ Unknown
54 They say what kills you makes you stronger but that's not true. Sometimes it makes you feel weaker, more afraid. ~ Unknown
55 It's ok to scream and cry and break down. It's not ok to give up ~ Iva Ursano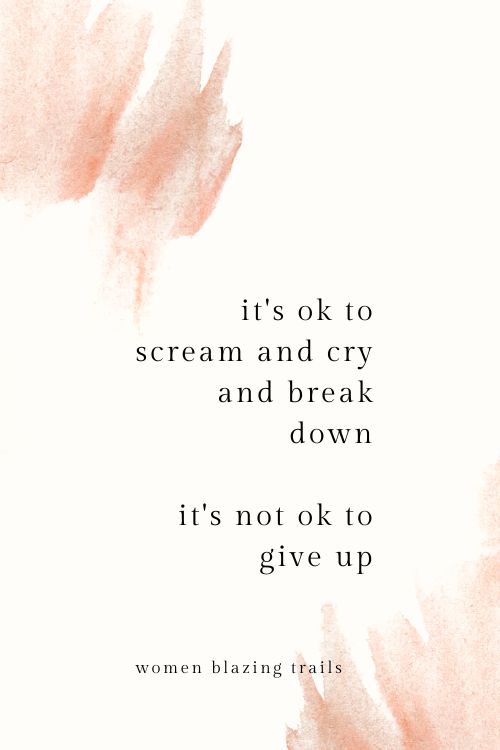 Final Thoughts on Calming Quotes
I believe that calming quotes and positive affirmations, when used properly and consistently, can help us get through some really tough times in life. It's important to keep trying and not give up.
Healing from anything takes time. You need to be patient and put in the work.
You must remember that your happiness, joy, and peace are important, just as is your mental health. It's up to you to take care of them. If you need extra help in healing, please check out my self improvement estore where you will find excellent books, courses, programs, and coaching.