10 Cheap Retirement Countries: Retire With $2,000 per Month
Are you looking forward to retirement? Do you imagine peaceful days spent socializing with family and friends, pursuing hobbies, and catching up on things you put off during a long career with limited time off? 
While we all long for those days, you may look at your bank account and bills and wonder if they'll ever come. If retiring in the U.S. feels unattainable, there are options for moving abroad that may be within your budget.
Here are 10 cheap retirement countries that will fit into your budget perfectly!
How Much Money Do You Need To Retire?
According to CNBC, Americans think they need about $1.3 million to live comfortably in their golden years. Using the Trinity 4% Guideline to measure retirement preparedness would give you an annual budget of $52,000, close to the average American salary of $56,000.
In actuality, Americans have an average of $89,300 in savings, a deficit of more than $1.2 million from that dream number. It's not just younger generations with anemic savings — Americans 50 and older reported average retirement savings of just over $110,000.
Using the same 4% rule, savings of $110,000 would only provide $4,400/year to a retiree, or $366/month. That would cover about half of your rent in Springfield, MO, the city with the cheapest rent in the U.S.
The average monthly social security check is $1,781.63. If you combine that with the average savings amount, you'd have $2,147 to live on. While that number is only double the poverty threshold in the U.S., it could offer a comfortable life in many other countries if you're open to retiring abroad. We analyzed countries that fell below the United States on the cost of living index, and here are our top 10 cheap retirement countries.
You may also like these related articles:
7 Best Places in Mexico to Retire
10 Ways to Get Paid to Travel the World
15 Things to Know Before Moving to Lake Chapala
11 Things I Learned About Being a Solo Female Traveler
Cheap Retirement Countries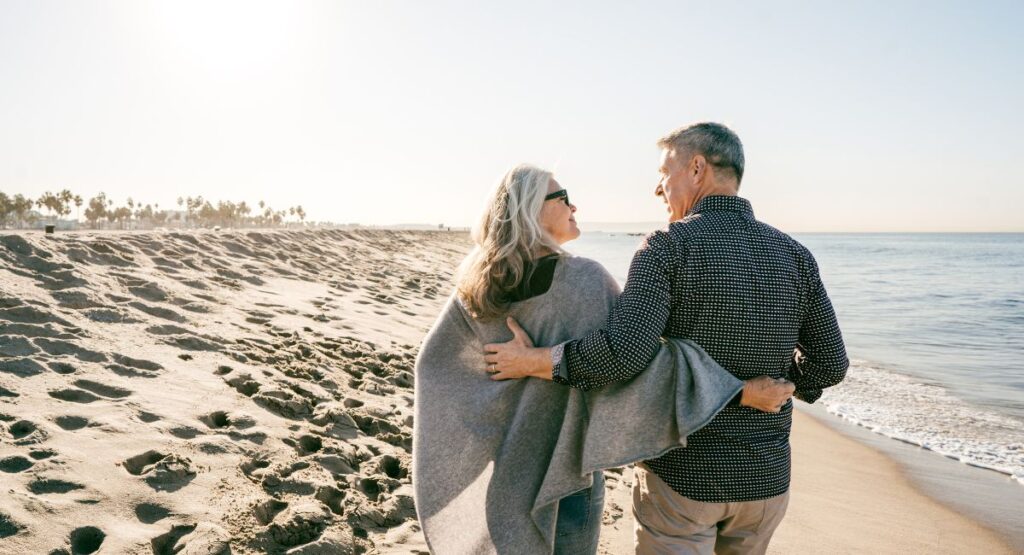 Portugal
Portugal is a retiree's dream. The country ranks in the top 25% on the healthcare and safety index and 7th on the global peace index. Although some opt to retain private health insurance, expats can access the national healthcare system after only three months. 
The Algarve region in the south has beautiful beaches and hot summers, and coastal cities like Lisbon and Porto have milder weather and endless options for arts, food, wine, and culture.
You can get a retirement visa with €760 in monthly retirement or pension income, which is equivalent to approximately $830. After five years, you can convert your residency for EU citizenship and enjoy easy travel across Europe. 
Costa Rica
Costa Rica offers retirees the choice of tropical weather on the Atlantic and Pacific coasts and milder weather in the mountains. The lush rainy season lasts from May to November. 
Caja public healthcare is affordable and easy to apply for. City-dwelling expats choose neighborhoods in the capital of San José, like Escazu, Santa Ana, and Los Yoses. Beachgoers love the central Pacific coast and the Guanacaste region. 
Travel between Costa Rica and the United States is easy, and the country operates in Central Standard Time. This Central American country is a leader in addressing climate change, and it's one of the most biodiverse places on Earth. Its government is a full democracy, one of four in Latin America and the Caribbean. You can get a visa with a minimum income of $1,000. 
Panama
Neighboring Panama shares many of Costa Rica's benefits for weather, biodiversity, and proximity to the U.S. Its Eastern Standard Time zone location makes it easy to keep up with friends and family on the East Coast. 
Its pensionado visa for retirees is available if you have a $1,000 monthly income. There are several additional benefits to moving to Panama: 
Retirees get sizable discounts for products and services across the country, including medicine, movies, train fares, and utilities. 
Cosmopolitan Panama City offers world-class healthcare, housing, and dining options, including a Johns Hopkins medical facility.
The country's currency is based on the U.S. dollar, saving you exchange fees. 
Most expats prefer private healthcare to public but use public facilities when they need quick, affordable care. Expat hotspots include Boquete and Coronado.
Mexico
Mexico is a popular retirement destination, with 62,000 Americans receiving their social security checks there in November 2022. With 7,000 miles of coastline, there are endless beachfront options on the Pacific Ocean, Gulf of Mexico, and the Caribbean Sea. There are also inland places to live in vibrant destinations like Mexico City, Lake Chapala, and Monterrey. 
Most Americans choose private hospitals for their healthcare, but the public option is available for a small fee. Pharmacies also staff physicians for affordable appointments on the spot. 
In addition to the wide variety of beaches and sunny weather, retirees love Mexico for its food, history, and culture. In 2023, you'll need a monthly income of about $3,111 to qualify for a residency visa, or you can show $51,860 in savings instead.
Czech Republic
Czechia is known for its rich history, architecture, and culture, plus its affordability. Expats with sophisticated tastes are drawn to modern Prague and picturesque towns like Cesky Krumlov in Bohemia. It's ranked in the top 10% of countries for safety and healthcare, which both appeal to retirees. 
About half of Czechs speak English, and even more in big cities and tourist areas, but some command of the local language will be helpful. The country has reliable public transportation, and it's easy to travel to countries like Germany, Austria, and Poland. 
Health insurance is required; many expats choose private healthcare. The Czech Republic doesn't offer a dedicated retirement visa. Still, you can get around this by applying for a long-term visa for study while enrolling in language classes and showing a mere 3,130 CZK per month in income (less than $150). 
France
Expats are often surprised to see France in a list of affordable retirement destinations, but outside of pricey Paris, living on a budget can be très achievable. Some popular destinations include charming Limoges, known for its porcelain, Caen in Normandy, beloved by WWII buffs, and Marseille, the largest city on the French Riviera. 
Oenophiles can choose to live in a region that produces their favorite varietal of wine, and travel lovers can pick a city with easy access to Spain, Italy, England, Belgium, or Switzerland.
Immigrants can use French public healthcare after only three months, and the country's medical care is ranked in the top 25% of countries. France is also ranked highly for end-of-life care. 
To retire abroad in France, you must show a retirement income of €19,200 (about $21,000).
Thailand
Known as the Land of Smiles, Thailand is another country with a lot to offer retired Americans looking for a high quality of life at a low cost of living. The weather is hot and humid, and the incredible diversity of terrain means many lifestyles are available, from city life to beach resorts to rural villages and jungles. Popular cities include Chiang Mai, Bangkok, and beachy Koh Samui. 
Retirees don't qualify for universal healthcare, but private insurance is readily available, and out-of-pocket care can also be quite affordable. 
Of course, any discussion of Thailand wouldn't be complete without mentioning the food! Endless street markets — and even floating markets — provide adventurous eats and one-of-a-kind experiences. You can get a visa after showing a monthly income of ฿65,000 (about $1,825).
Finland
Finland is regularly named the happiest country in the world, and there are many reasons why. This Nordic nation is in the top 10% for safety and infrastructure. It offers free college education and universal healthcare for everyone, including expats. Your grandchildren may want to study near you! 
The Finnish language is notoriously difficult to learn, but thankfully 70% of Finns speak English. The winters are dark and cold, but retirees can entertain themselves with ubiquitous saunas and the Northern Lights. 
You can retire here with €1,000/month in income (about $1,100). Finland presents the highest cost of living on this list, but costs vary depending on your lifestyle and where you choose to live. You'll save if you live outside Helsinki in cities like Espoo and Turku or a college town like Tampere.
Philippines
The Philippines is a diverse set of islands with a large population of 114 million people. It is one of the cheapest countries in the world. Retirees may be drawn to the warm weather and thousands of beaches. People also love the food, such as the Filipino take on Mexico adobo. 
Nature lovers will enjoy the country's 228 key biodiversity areas. Expats can join the local public PhilHealth or stick to private insurance for healthcare. Americans love living in Davao City, Tagaytay, and Cebu City. 
You can retire to the Philippines by making a $10,000 investment into a retirement account or property, and by showing $800/month in retirement income.
Uruguay
Uruguay is a hidden gem for retirees in South America. This small, lush nation is nestled between Argentina and Brazil in the Southern Hemisphere. International Living points out that it's known for its high-quality, affordable healthcare. Their Mutualista program allows you to subscribe to a hospital's services without a deductible or lifetime cap. 
Uruguay has four seasons, and the weather is mild, with average temperatures between 50°F and 75°F year-round. The country is a politically stable full democracy, ranking first in South America on the Global Peace Index. 
Most expats live in Montevideo, the coastal capital, though others choose resort destinations like Atlantida and Punta del Este. You can retire in Uruguay with a monthly income of $1,500.
More Cheap Retirement Countries
Beyond our top 10, our runners-up for best countries on a budget include Albania, Argentina, Belize, Chile, Colombia, Dominican Republic, Ecuador, Estonia, Ghana, Greece, Indonesia, Malaysia, Malta, Mauritius, Montenegro, Peru, Poland, Slovenia, and Sri Lanka.
For Americans looking to live comfortably on around $2,000 a month, options abound. It's not cheap or easy to make the move, but the long-term benefits to your quality of life, healthcare access, and living costs can make up for the temporary effort and expense. 
With careful planning and research, you can choose one of the best places for your retirement in gorgeous, welcoming countries around the world.
This article originally appeared on Wealth of Geeks. 
Jen is the co-founder of Expatsi, a site that matches Americans with the best countries for them to move to and helps them navigate the process. She and her partner Brett are destined for Mexico, and they host TikTok live events and a Facebook group to answer questions and build community with other folks who want to leave the U.S.