How to Stay Calm in Stressful Situations – 9 Simple Things to Do Now
Well, let's face it. There's nothing easy about life these days. Everyone around the world is freaking out and scared for their lives. Rightfully so. Things are kinda crazy right now. I want to talk about how to stay calm in stressful situations today.
I gotta be honest. I've never been one to stress out too much over things. Any things really. I have the mindset that everything always works out. Maybe not the way we want it to, but nevertheless, it does.
But this isn't about me. It's about all of us. All of us who have lost their jobs, who are stuck at home feeling helpless and hopeless. It's about all of us who are stressed to the max and need to figure out how to stay calm.
(this post contains affiliate links so if you make a purchase I make a small commission-affiliate disclosure)
Staying calm in stressful situations seems impossible
So else here has had enough of this "v" thing and wants life to go back to normal, say Aye! Ya so it's getting kinda stressful and we're at our wit's ends but this is now the new normal and it's up to us to update. However with that said, that doesn't mean that it hasn't taken its toll on us.
Amirite?
It's tough.
Staying calm in stressful situations seems almost impossible. We all have a breaking point. I think I may have reached mine once or twice during my isolation but I know how to calm myself down under stressful situations. I mean, we're ready to snap!!
It's so easy to lash out or snap at our loved ones. We're all stressed!! Even your loved ones. It's frightening for all of us and the worst part of it all is no one knows when it will end.
Talk about a double edged sword.
Enough babbling from me. Let's get right down to the 9 simple steps I want to share with you on how to stay calm during this time.
How to stay calm in stressful situations-9 things to do
Listen to music
Sounds simple enough (pardon the pun) but seriously, music is so therapeutic. You can either listen to dance music and shake your booty or listen to some soft jazz. Maybe some calming Zen music might be your thing. Whatever kind of music you are in the mood for, turn it on and chill out.
This will take your mind off things and help you to relax a wee bit.
Journal
This one helps me a lot. I'm a writer so naturally it comes easy to me but when I journal I write about gratitude things.
Get a journal or notepad (or you can even do this on your computer) and write out a list of 10 positive things in your life. Yes I know your life is bad right now but you still have a roof over your head and clean running water.
Think of 10 things, write them out and read it back to yourself.
Doing this will put things, and life, into perspective for you so you can see it's not all that bad (even though it appears it is).
Breathe
I bet you knew I was going to tell you this but honestly, breathing is still, and always will be, the number one way to calm down in a stressful situation.
Sit quietly somewhere, close your eyes and just take in some nice big deep breaths and breathe out slowly. What I like to do is pretend I'm breathing in soft pink healing light and blowing out everything negative in my mind.
Trust me, it works.
Call a friend
Like get on the actual phone and call a friend. Even an old friend you haven't talked to in ages. Talk about anything BUT the 'v' thing going on right now.
Having someone to talk to, especially if you live alone, is monumental in keeping your sanity. It's so nice to reach out and talk to a friend about old times, fun times, any times, laugh til you cry and feel good afterwards.
Pick up that phone.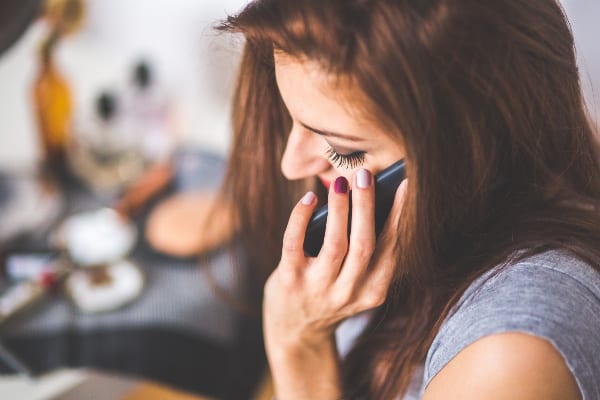 Do a Zoom conference call
We haven't seen or talked to anyone in weeks (for those who live alone, like me). It's nice to have human interaction once in awhile.
Organize a Zoom meetup with some of your friends!! I do this daily with some great peeps I met on Medium. Zoom is free to use (up to 45 minutes for a group call I believe) and it's a great way to have an online 'party' if you will.
Not familiar with Zoom? Here's the link to check it out.
Go for a walk
Even if it's only in your parking lot or backyard (if you are under strict orders to stay in). Get outside and get some fresh air. Mother Nature has the best healing properties ever.
If there is a dog park in your area go hang out with some furry critters. Best therapy ever!
Think of joyful things
In other words, switch your thinking immediately. Next time you are feeling stressed out or anxious, stop your thoughts and think of 3 positive things for every one negative thought.
I just learned how to do this recently and what a difference it makes!
So turn those negative thoughts and feelings into positive ones!
Take a nap
Seriously, just go lay down. I know it's hard to fall asleep when you are feeling anxious or your mind is going a million miles an hour but just go.
I like to put in my ear buds and turn on some nice guided meditation from YouTube. The one below really helps me a lot. Her voice is so soothing. Insight Timer also has some fantastic things to listen to.
It will take your mind off of your anxiety and you will feel calm within minutes.
Mindful Movement is one of my favourite Youtube channels. Go check it out and find something nice to listen to to calm yourself down.
Watch a comedy
Or a horror movie or whatever! I personally prefer to watch animated silly movies if I'm feeling stressed (Minions anyone?). Though I'm not a huge fan of TV and I generally don't advise people to watch TV, desperate times call for desperate measures :p
Find one of your favourite shows or maybe surf Netflix for the latest awesome series. Or maybe while you're on YouTube you may find something really interesting to watch (stay away from natural disaster shows though please).
Sometimes it's just nice to have background noise on.
One more thing to do
(Ok so this makes 10 things)
Why not learn something new? Have you always wanted to learn a new language? Maybe you've wanted to learn how to sew or crochet or paint even. Why not start taking some online courses?
CreativeLive offers lots of free (and paid) courses to teach you just about anything you want to learn! This will not only take your mind off things, but give you something to look forward to!
Learning how to remain calm under stress
I'm not gonna lie, it's gonna take some practice. This isn't something you're going to be able to master overnight. But it's important to at least try some of the techniques I shared with you.
Personally, I think you should start out with the breathing techniques and then choose one or two other methods from there to help you stay calm.
You have to always remember that everything is temporary and no matter, we will all get through this. There will be a light at the end of this long scary tunnel.
It's ok to cry and breakdown too!
None of us have it all together right now. I am only sharing a few tips on how to stay calm right now but if you need to scream and cry by all means, do that too.
Crying is also very therapeutic.
Just remember to pick yourself back up, don't stay down, and then look for the positive things in your life again. And please, don't take your anger or frustration out on your loved ones. I know it's easier said then done but please try to refrain and be respectful and compassionate during this time.
We're all in this together. We're all frustrated. But this doesn't just apply to the virus. These tips can be applied anytime you are feeling stressed out and need to calm down.
Staying calm in stressful situations
Don't we wish that there was no such thing as stress? Sometimes things just pop up out of the blue and stress us out too.
Maybe you have an upcoming job interview or you just had a fight with your spouse. You can still apply all these tips to help you calm down and not lose your marbles (or say something mean to your spouse you will surely regret later). Staying calm in stressful situations can actually save your relationship!
I'll say it again, the breathing technique is, by far, the best way to calm down followed by the take your negative thoughts and think 3 positive ones.
I hope all these tips helped you. If you have other methods that help you stay calm please share them down below. Sharing is caring.
xo iva xo