5 Ways to Maintain Mental Health For Online Workers
Working from home has become an increasingly possible option for many of us for a variety of reasons, and it can be a fantastic way to work. But it also can cause some stress. Today I want to share 5 ways to maintain mental health while working from home.
Avoiding getting stuck in rush-hour in a traffic jam, saving tonnes of money each month on paying for gasoline, being able to sit in the garden at lunch time, what a life.
Whilst there are some amazing benefits to working from home, it's important also to be aware of your own mental health and wellbeing and your physical health to ensure that you maintain the right balance.
How easy it can be to get into a routine where you spend all day staring at a computer screen, fail to get some form of exercise, or you get into other bad habits.
Why it is Important to Maintain Mental Health
I want you to think about a time when you really angry, upset, or stressed out. Try to think back to how it made you feel not only emotionally but physically as well. There is a direct link to our physical and mental health.
When we can't control our emotions or maintain our mental health, our physical body suffers immensely. When was the last time you were really stressed out and had a major headache?
Or the last time you were really angry at someone, and suddenly your back started hurting?
Or maybe there was a time you felt anxious or depressed because of a life-changing event like job loss, marital breakup, death of a loved one, etc. These emotions show up physically for us too.
This is how our mental health, or lack of maintaining our mental health, affects us physically.
So let's look at some tips on how to maintain mental health while working from home.
5 Activities to Improve and Maintain Mental Health
Here are 5 activities that will help you improve and maintain mental health, but there are so many more, honestly. I think it's important to note that what we eat plays a huge role in our mental health as well.
Be mindful of what you eat, drink, etc.
1. Establish a Routine
The one thing that is incredibly easy when working from home is to get into a rut! It can be so easy to spend a lot of time achieving very little and find that the days fly by but that the workload just doesn't seem to match the time spent working.
Alas, establishing a routine can be the key to feeling a sense of achievement and developing workdays from home that are productive and rewarding.
One trick I use is to spend 5 minutes at the close of work the day before or before going to bed and planning one to two key tasks that I will work on the next day and two to three small tasks that I will also do (but that will be done after the main tasks).
Having a clear focus as you start each workday and having a maximum of five clear goals in total, makes it much easier and clearer. You might actually find that by being more refined in how you work actually also allows you more free time during the workday for things such as fitness.
Using a day planner will make sure you stay on course and knock off your tasks as you complete them! This tip is a great one to help you maintain mental health while working from home!
2. Retrain the Body and Physical Health
Ever find yourself getting a sore back or tighter neck since working from home? Did you find yourself sitting at a computer more and having fewer reasons to move compared to when you had to walk to the office or used to go at least for a walk during your lunch break?
It is essential when working from home, to not only create a positive work schedule but too also to pay specific attention to your own physical well-being.
There is a very good chance that you will be moving less by working from home but there are a number of ways to compensate in order to help re-enforce a positive physical regime from home.
The choice is yours, as there are so many free fitness classes online. If you love to dance, then search for dance fitness courses. If you enjoy yoga or Pilates, there are dozens of great classes online. Alternatively, join some local classes, such as a park run.
If you live near a park why not make an absolute plan to go for a walk each day, perhaps at lunchtime and every day. You might want to vary the walk of course.
Whatever works for you but the key is to remember to move. I think this is probably one of the best tips to help maintain mental health.
I've never run in my life as I much prefer to dance but I've started to do 5km runs twice a week. It is a little bit like a living hell for me to be honest, but I genuinely do feel good afterward.
I love belly dance more than anything and so I've joined a course online and do regular lessons online, as well as weekly yoga and Pilates.
Love gardening?
Why not spend more time each workday in the garden before or after work? Don't spend all day out in the garden, though, as I did the other day planting vegetables when I should have been working!
I suggest allocating 30 minutes every day to doing an exercise (say from 11 am – 11:30 am).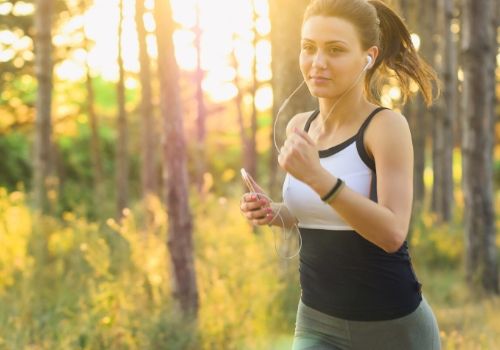 3. Creating a Quiet, Relaxing and Positive Work Space
The work environment you create for yourself is essential when working from home and for finding a good balance for wellness in order to maintain mental health. Make sure that you find somewhere:
Peaceful, i.e. where you will not be disturbed too much
With natural light
Where you have enough space for everything you need
Also take the time to lay out your workspace such that it is a location that you are excited to walk into every day. If you love cats, then put up some cats photos or artwork.
Have a nice table or area to place your drinks and somewhere for a notepad and pen and so on.
Create a great working space that makes you feel positive. Surround yourself with positivity including positive artwork, items, and anything that makes you smile or happy.
If you enjoy listening to music or the radio when working, also try and work out what music makes you the most productive and happiest as you work. Spotify is amazing for experimenting with new music to work to.
Try and avoid listening to radio conversations such as those involving politics and debates. Try to create a positive working environment that relaxes you.
4. Eating Properly and Meals
How easy is it to get into bad habits when working from home?! As an Italian who was brought up in Sicily, learning to cook from my grandmother and then mother, from a young age, food is everything to me.
But I can't work if I'm hungry!
Making sure you eat properly is key, and eating healthily, is, of course, essential whenever you work from. When working from home though, work hours can become blurred as we tend to find that we have more flexibility when working from home.
A really good time management technique to try is the Pomodoro method.
You can grab a healthy snack on one of your timed breaks!
Make healthy eating a part of the established routine we talked about earlier in point number one.
5. Remembering to Socialize
It is incredible how easy it can be to forget that there is a real world out there, when you are working from home. Social interactions are essential for us as human beings, and yet it is so easy for us to become withdrawn and feel lazy in respect of socializing when home working.
The trick here is to ensure that you actively allocate time or consciously make an effort to generate social interactions. Do not miss that exercise class in the local gym because you didn't finish a work task. Make sure you do allocate the right proportion of time to socially related tasks.
This is once again related to establishing a positive routine.
The benefits of good mental health
Now that you know some ways to maintain mental health, let's look at a few benefits of good mental health. This should go without saying but when we see benefits of things in writing it actually inspires us to want to be healthier, mentally and physically!
We think more clearly
We have more inner peace
Our physical health improves
More self-confidence and self-esteem
Reduce the risk of depression/anxiety
Better relationships
Overall happiness and joy!
It's so important to make sure you are managing your mental health well so that you can really just live your best life!
Whatever kind of work you do working from home, whether you work for someone else or for yourself, home working can be a great experience if you manage it well. Wishing you all the best in your work!
Author bio:
Written by Dr. Valeria Lo Iacono (Symonds), who now runs her own training materials business online, Symonds Training. Valeria, who is originally from Sicily, Italy, and who now lives in the UK, also writes about belly dance heritage, a topic she wrote about for her Ph.D. that she recently completed.