What is Red Light Therapy, and Does it Really Work?
I'll be honest. I wasn't exactly sure what red light therapy was until a company contacted me and asked me to try their face mask. Who am I to say no to that? So I did a little research to see what this LED mask was all about and how it could help my aging skin.
Before we get into it, they didn't ask me to write this review. I am writing it in order to give you some information on this product and share some RLT benefits with you. I will also drop the link to the mask I received, and you can check it out for yourself and see if it's right for you.
The link is an affiliate link, however, so if you do purchase this mask, I will get a small commission at no extra cost to you.
First things first. What is red light therapy? We'll use the acronym RLT throughout, so know that this means red light therapy.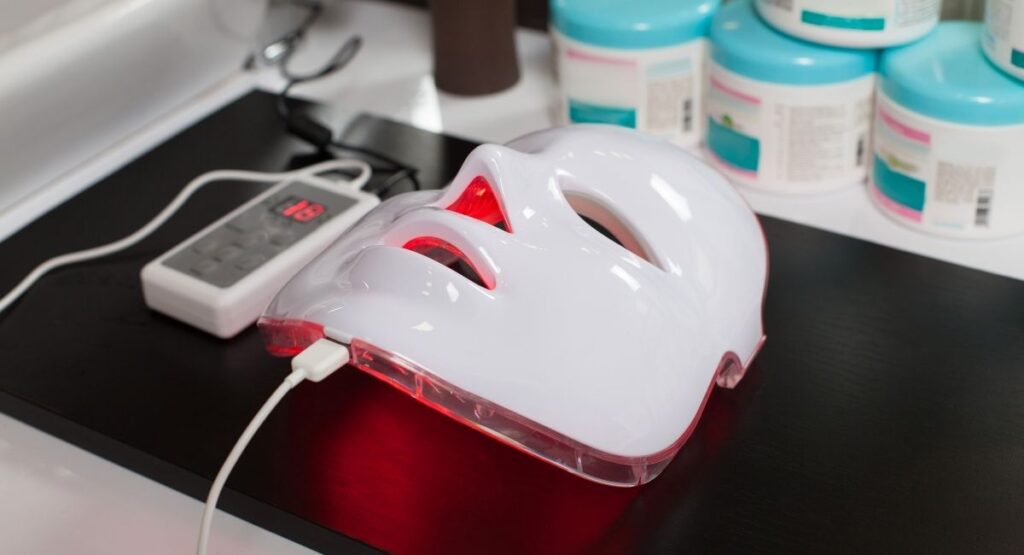 What is Red Light Therapy?
Red light therapy (RLT) is a treatment that uses low-wavelength red light to reportedly improve your skin's appearance, such as reducing wrinkles, scars, redness, and acne. It's also touted to treat other medical conditions.

Source: Cleveland Clinic
So it basically takes care of every skin issue you may have, which is pretty cool, I think!
You might also really like these anti-aging articles too:
What is Collagen Powder Good For
Is Botox Safe? 7 Things You Should Know
11 Best Oils For Under-Eye Wrinkles
7 Best Supplements That Reverse Aging
Is Red Light Therapy Safe?
From what I can understand, it used to be only available in a doctor's office (or dermatologist's office) but is now available for home use too! So, is RLT safe?
Yes and no.
It's safe for most people, but for those with any conditions pertaining to the eye's retina, you should probably stay away from it. If you still want to take a chance and try it, please speak to your doctor first!
Many women (and men!) these days are choosing to use RLT at home rather than spending money at the doctor's office. And who can blame them!? A visit to an office can cost hundreds of dollars.
I really want to discuss the RLT benefits and then give you my honest review of my LED red light therapy face mask.
What Are the Benefits of Red Light Therapy?
So let's get to the good stuff now. What are RLT benefits? What does red light therapy do anyway? You're gonna love this part!
Improves skin health
RLT has been shown to do the following:
increase collagen production
reduce fine lines
increase circulation between blood and tissue cells
improves the texture of the skin
reduce wrinkles
Those are just a few!
Dramatically Improves Acne
RLT is very effective in the treatment of acne. It helps promote healing and works to decrease the visibility of acne scarring. It also has anti-inflammatory capabilities.
RLT works deep below the surface of your skin to help soothe and repair tissue. If a chronic skin condition causes your acne, red light therapy might be the choice for you.
Speeds Up Healing
If you have any wounds or acne scarring on your face, RLT is excellent for speeding up the healing process. I mean, let's face it, pardon the pun, but who wants a face full of acne scars (or other scars)?
Side Effects of Red Light Therapy
While discussing all the great benefits of RLT therapy, it's also just as important to disclose the side effects.
Let's go back to talking about who shouldn't use LED therapy. Here's a small list of people for whom this therapy may not be right. As always, please consult with your doctor first.
Who should not use red light therapy?
people who take medication that increases light sensitivity
if they have a history of skin conditions, including skin cancer and eye diseases
people with a history of systemic lupus erythematosus
You can see, the list is small, but let's talk about some possible side effects.
RLT is a completely natural process. It exposes the skin to levels of light that are not harmful — unlike UV light coming from the sun.

Because of this, there is virtually no risk of side effects from undergoing RLT. However, a practitioner with little experience or someone exposed to too much of the treatment may cause tissue and cell damage.

Products for use at home may also lead to misuse, causing damage to the skin, burns, or damage to unprotected eyes.

Source: Medical News Today
My Experience With Current Body LED Face Mask
When I received it, I was pretty excited to start using it! Taking it out of the box, it looks scary.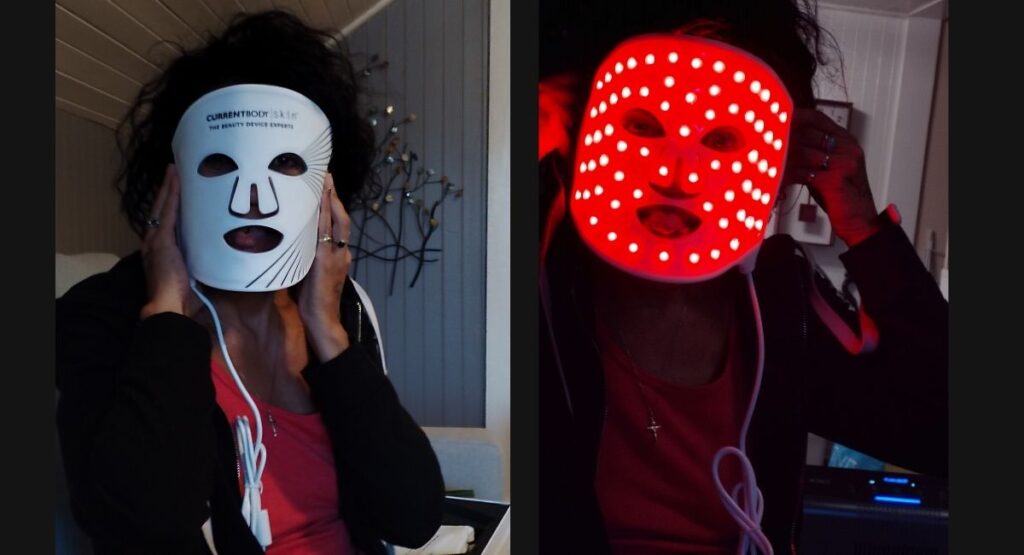 My first very important tip: if you have cats or dogs, don't use it in front of them. It's terrifying for them. Trust me on that one.
So I'll be honest, at first, I had a hard time getting it to sit on my face properly, and I struggled with it a bit. But that's because I'm a bit of a spaz! It comes with goggles, and if you have sensitive eyes or are nervous about the light in your eyes, use the goggles.
I use the goggles because I just had laser therapy on my eyes back in May of this year for torn retinas, so I'm super careful. You only get one set of eyes to last your whole life. Protect them as much as you can.
The company also sent me 5 of the face mask gel packs for free to go along with the mask. Get the gel packs! They're great and make your face feel so wonderful!
Tips on how to use the LED therapy face mask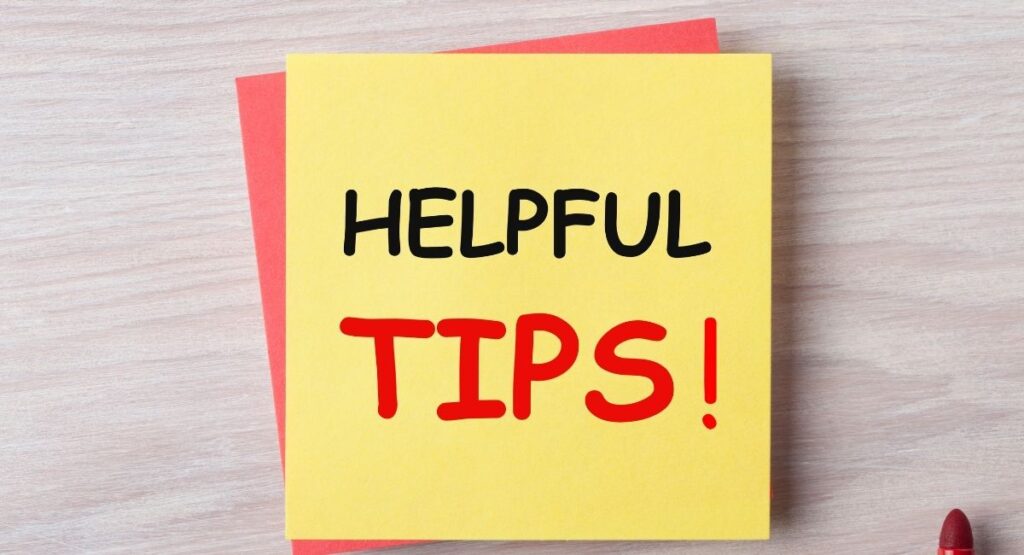 The instructions are very basic, simple, and easy to follow. I feel they left out some things, so I'll share them here now.
The mask runs for 10 minutes only and automatically shuts off after that time, which is great, but I don't trust any techy gadgets ever. I put on a 10-minute self-love meditation and listen to that while the mask is doing its job. When the meditation is over, the mask should shut off around the same time. You could set a timer or not be paranoid like Iva and just let the mask do its thing.
Make sure your face is clean, and if you're going to use a serum or cream, PLEASE read the instructions carefully or Google to see which ones you can't or can or absolutely shouldn't use. Better safe than sorry.
Put it away carefully so you don't damage the lights, cord, charger, or anything else. It feels a little fragile to me, but it's only because it's so lightweight you forget it has lights in it.
Make sure you won't be disturbed by anyone or anything. This is your time. Take this 10 minutes to be by yourself.
It is a little awkward at first to get on and make it sit properly on your face but be patient. It may take a few times before you get it right. The goggles go under the mask, by the way.
Don't expect instant results.
Before and After Red Light Therapy
As I've only been using mine for a little over a week at the time of my writing this post, I don't really have any amazing before and after RLT photos to share with you, but a quick Google search will give you lots.
You can also check out the before and after pics on the Current Body website too. They're pretty impressive.
They say results can take between 4-6 weeks before you start noticing anything, so patience is definitely required here, but all good things take time. Be patient.
A Few Things to Know About Current Body Face Mask
What you need to know:
No.1 best-selling LED face mask with 1000+ 5-star reviews
31% more powerful than any other LED mask
As seen on Netflix's 'Emily in Paris'
FDA-Cleared, clinically proven to reduce wrinkles in just 4 weeks
95% of users have seen improved skin tone, texture, and firmness
Patented flexible silicone ensures light penetrates every area of the face
132 LED bulbs deliver 29 mW/cm² for a powerful 10-minute treatment
Pillow Technology™ diffuses the LED light to ensure maximum skin coverage
My Final and Honest Thoughts on the Current Body LED Face Mask
I have to be honest, at first, I wasn't sure if I could easily slip into a routine of putting this thing on my face. It felt weird and awkward, but now? I look forward to it. It's relaxing and soothing, I get to listen to some nice self-love meditation, and I know it's working on my skin.
So the big question now is, would I recommend this mask? Yes, I would, but please do your research as well. I'm not going to force you to buy something. I'm only here to share my review and experience of what I think is a great product.