55 Epic Quotes About Change That Will Motivate You
Before I get into this blog and share 55 of the best quotes about change with you, I want to share with you a little story and the reason why I'm writing a blog about life changing quotes.
Now while I don't often write quote posts on this site, I don't mind writing one every now and then just to give you a little inspiration and motivation. I find that as we near midlife and beyond we can experience sudden change in life that will shock and surprise us.
Many things change in our lives, and we may not be prepared for them at all or even know how to handle them. I believe that reading inspirational material, yes, even quotes about change, can guide us and comfort us.
As we grow, we go through an awful lot of changes in our lives and I have to be honest, though I do have a slight fear of change, I also embrace it too and know that these sometimes spontaneous changes are simply pushing us out of our comfort zone and preparing us for a better version of ourselves.
And the only way we grow is through change.
Barack Obama said it best- "The best way to not feel hopeless is to get up and do something. Don't wait for a good thing to happen to you"
And I believe that. A lot. Anyway I hope you enjoy reading positive quotes (obviously you do because you're here) because I've updated this old post and added 25 more quotes about change.
Grab your favourite bevvie and let's dive in!
Inspirational Quotes Saved My Life
Let's go back about 8 years ago or so, I was just leaving my toxic relationship, I had nothing, I was starting over at 50 with no money, no job, and I was scared out of my mind.
But one thing kept me motivated to change my life. I was continually having thoughts about making a life change.
"Iva you can't stay like this forever"
"Iva you need to start changing your life and your ways"
"Iva do you want to live the rest of your life like this"?
My life sucked. I had hit rock bottom, yet again, and something had to give. I was tired of this miserable thing I was calling life. There had to be more I kept telling myself.
I convinced myself there was more and I was going to do whatever I had to do to find out exactly how MUCH more there was to this thing called life.
So I did what anybody would do. My first step was to start absorbing all the positivity I could like:
quotes about change,
quotes about change in life and moving on and
inspirational and motivational quotes
listened to self help podcasts
read personal growth ebooks.
These helped me so much while I was in my dark and lonely space.
My life went through so much incredible change over the next year that still to this day it blows my mind. I knew that the only way things were ever going to get better was that if I decided to make great changes in my life.
I started out making small changes at first and then they got bigger and bolder.
Famous Quotes and Random Quotes!
In my quest to provide you with the best reading material, I've dug up 55 of the best inspirational quotes about change that will certainly shift something in you.
Some are my own, others are famous quotes from people like:
Albert Einstein, Oprah Winfrey, Winston Churchill, Mother Teresa, Maya Angelou, Steve Jobs, just to name a few!
Anyway, I hope these quotes about change inspire and empower you to make the life changes you so dearly want to make.
And don't forget, if you love any of the posters in this article, don't forget to hit that Pin It button or the share button!! I believe that if these quotes helped me, I am confident they will help someone else too.
Can Quotes Really Change Your Life?
Can quotes actually change your life? You bet your bootie they can BUT only if you work them properly. Wait, what? How do you 'work' quotes? I'm gonna share a technique that has always worked for me and I believe it will work for you too.
I share these quotes that will change your life and you are here reading them because you WANT to change your life, right? But you have to put in the work and your desire to change has to be bigger than your desire to stay in misery.
What I mean by that is that you really really really want to change. And I think you do! You have to understand something very important- change is the law of life.
Things are constantly moving and changing around you and you, as well, need to be constantly changing. It's just the way it is. The human mind is designed to change, grow, evolve, etc but so many of us have wired it to stay in comfort zones and live in fear.
It's sad when you think about it, really.
So when you read these quotes I want you to feel them in every ounce of your being, in every cell, in the blood that runs through your veins, in your soul, I mean, I want you to completely immerse yourself in the quote and believe it.
That's how quotes work.
Let me share a video of how I changed my life and how I have faith that you can do it too! This is from my YouTube channel Women Blazing Trails. While you're there, don't forget to hit the subscribe button too!
This blog has been recently updated from 25 quotes about change to 55. I hope you like the extra 30!
55 Epic Quotes About Change
That's enough babbling about changing your life, let's get on with the best quotes about change. Don't forget, if you use them properly, you WILL change your life!
1 It's never too late for a new beginning in your life

Joyce Meyer
2 Difficult roads often lead to beautiful destinations

Zig Ziglar
3 Sometimes, the smallest step in the right direction ends up being the biggest step of your life. Tiptoe if you must, but take the step.

Naeem Callaway
4 Don't be afraid to start over. This time you're not starting from scratch. You're starting from experience

Unknown
5 Today is the tomorrow you talked about yesterday

Unknown
6 One day you will thank yourself for never giving up.

Unknown
7 Every positive thought is a silent prayer that will change your life

Bryant McGill
8 You didn't come this far to only come this far

Unknown
9 Sometimes the strength within isn't a big fiery flame for all to see. Sometimes it's just a tiny spark that whispers ever so lightly, "keep going, you got this."

Unknown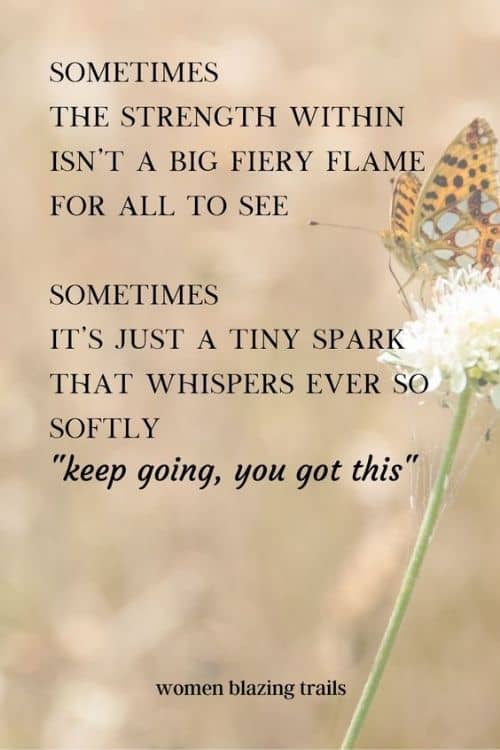 10 One day you will be at the place you always wanted to be. Don't give up.

Unknown
11 No matter how many mistakes you make or slow you progress, you are still way ahead of everyone who isn't trying

Tony Robbins
12 The woman I am today would like to thank the woman I was 5 years ago for not giving up. You're awesome!

Iva Ursano
13 Change isn't painful. It's our resistance to change that's painful

Buddha
14 "It's impossible" said pride. "It's risky" said experience. "It's pointless" said reason. "Give it a try" whispered the heart.

Unknown
15 Solve the problem or leave the problem. Do not live with the problem.

Unknown
16 There are people less qualified than you doing the things you've always wanted to do simply because they believed in themselves.

Unknown
17 You were given this life because you are strong enough to live it

Ain Eineziz
18 If you need something to believe in, start with yourself

Unknown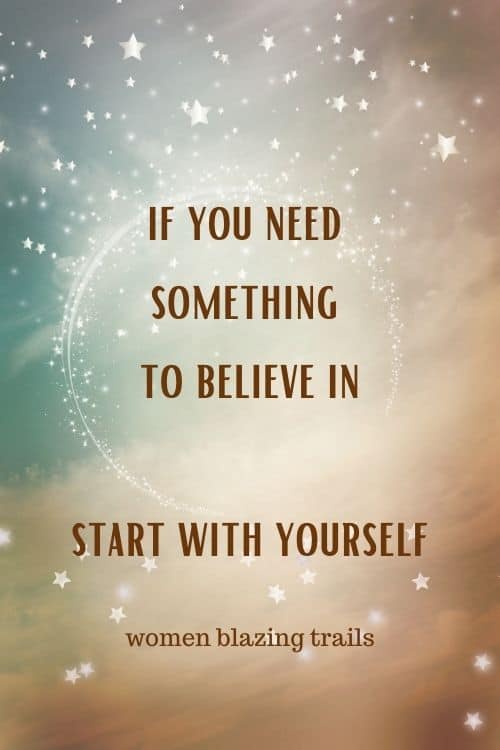 19 The comeback is always stronger than the setback

Unknown
20 She believed she could, so she did!

Unknown
21 It's up to you to create the life that gets you excited to wake up in the morning.

Unknown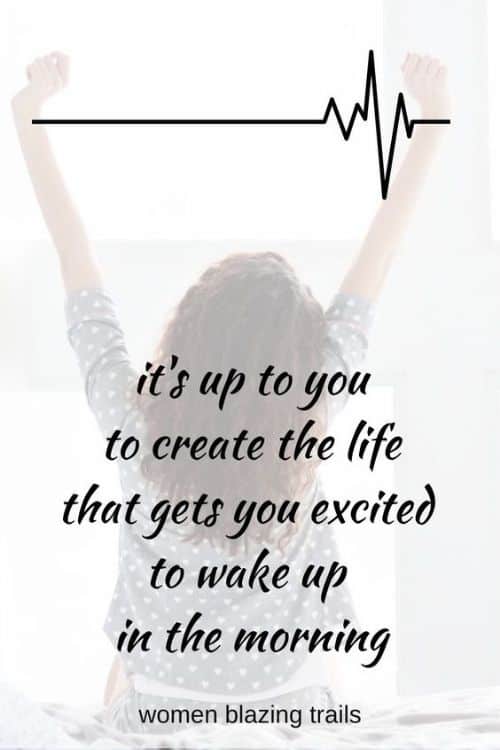 22 I am not what happened to me. I am what I chose to become

Carl Gustav Jung
23 Be the woman who just went for it

Unknown
24 No one said it was gonna be easy but I promise you it will be worth it!

Harvey MacKay
25 Make a choice. Take a chance. Flick fear away. Do the thing already!

Iva Ursano
Updated With 25 More Quotes About Change
26 If you want to change the world, go home and love your family.

Mother Teresa
27 If you don't like something, change it. If you can't change it, change your attitude about it.

Maya Angelou
28 There are only two ways to live your life. One is as though nothing is a miracle. The other is as though everything is a miracle.

Albert Einstein
29 For things to change, you have to change

Jim Rohn
30 Your journey begins with a choice to get up, step out and live fully

Oprah Winfrey
31 Change is inevitable. Growth is optional.

John C. Maxwell
32 If you change the way you look at things, the things you look at change

Wayne Dyer
34 Yesterday I was clever so I wanted to change the world. Today I am wise, so I am changing myself

Rumi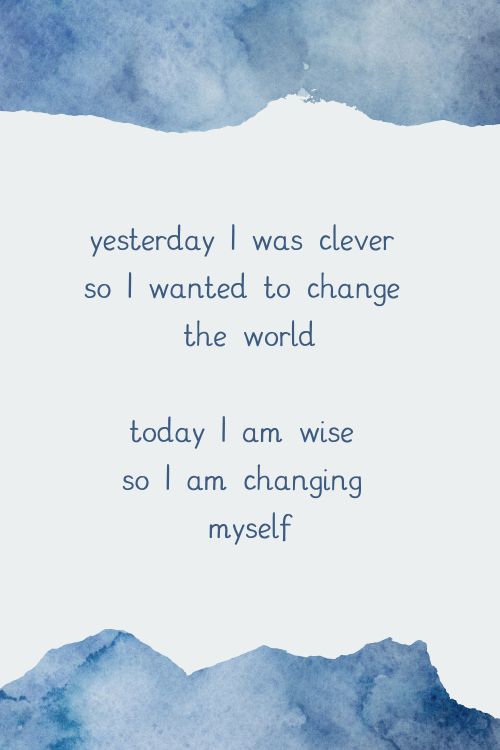 35 Don't be afraid to give up the good, to go for the great

John D. Rockefeller
36 Not everything that is faced can be changed, but nothing can be changed until it is faced.

James Baldwin
37 Progress is impossible without change, and those who cannot change their minds cannot change anything.

George Bernard Shaw
38 The secret of change is to focus all of your energy not on fighting the old, but on building the new

Socrates
39 Change is not something you can avoid or pretend is not there. We all need to embrace it and face it head on.

Jay Shetty
40 Be the change that you wish to see in the world

Mahatma Gandhi
41 By changing nothing, nothing changes

Tony Robbins
42 Life has no remote. Get up and change it yourself

Unknown
43 To improve is to change: to be perfect is to change often

Winston S. Churchill
44 True life is lived when tiny changes occur

Leo Tolstoy
45 Don't be afraid to change. You may lose something good but you may gain something better.

Unknown
46 Growth is painful-change is painful but nothing is as painful as staying stuck somewhere you don't belong

Mandy Hale
47 When we are no longer able to change a situation, we are challenged to change ourselves

Viktor Frankl
48 Slowness to change usually means fear of the new

Philip Crosby
50 If you're always trying to be normal, you will never know how amazing you can be

Maya Angelou
51 If you correct your mind, the rest of your life will fall into place

Lao Tzu
52 The people who are crazy enough to think they can change the world are the ones who doSteve Jobs
53 I can affect change by transforming the only thing that I ever had control over in the first place and that is myself

Deepak Chopra
54 Change. But start slowly because direction is more important than speed

Paolo Coehlo
55 The only person you are destined to become is the person you decide to be

Ralph Waldo Emerson
And here are a few more famous quotes by some people I know you've heard of!
Every accomplishment starts with the decision to try- John F. Kennedy
Don't give up. I believe in you all! – Dr. Seuss
Never doubt that a small group of thoughtful committed citizens can change the world. Indeed it is the only thing that ever has! – Margaret Mead
Change your thoughts and you change your world – Norman Vincent Peale
It always seems impossible until it is done – Nelson Mandela
So there you have it. 60 quotes about change!!
Best Life Changing Quotes
I hope you enjoyed these best life changing quotes and wise quotes on change. Read them over and over again until you feel the words in your bones and your soul! Do not ever give up on life because you think changing is hard or impossible. It's only your mind that tells you those lies.
Yes change is hard, Impossible? Hell no!!! Anyone can change anything in their lives if they really want to. Do you?
Please don't forget to hit that share button.
Peace and love
xo iva xo