25 Small Things to Be Grateful For Every Day
I've noticed lately that more and more of my friends are complaining about life, things going on in the world, money and so much more. This list of small things to be grateful for will remind you to stop and remember how blessed you are, despite what's going on around you.
It's easy to get wrapped up in all the negativity around you, and finding gratitude can sometimes be hard to do. I want to share with you my morning gratitude practice that helps me an awful lot.
(this post contains affiliate links so if you make a purchase I may make a small commission-affiliate disclosure here)
Morning gratitude practice
The minute I open my eyes I say thank you God for another day. Now I get maybe not all of you believe in God and that's cool. You can say thank you to whoever you believe in or just say it to the Universe!
Just say Thank You! As soon as you open your eyes. You're alive.
Then I usually find a short prayer of gratitude on YouTube and listen to that while I'm getting out of bed. You can find lots of these prayers that are under 5 minutes. I really enjoy listening to them.
Then off to make coffee and then grab my gratitude journal and write out all the small things to be grateful for. I always have lots!
I have the app Insight Timer which is amazing to find a good morning meditation for gratitude. I'll listen to that and then when my heart is full of all the stuff I'm thankful for, I'm ready to start my day!
Before we dive into this, you might also like these awesome articles from this site!
10 Ways to Deal With Stress in Life
10 Things Women Over 50 Should Never Wear!
10 Best Morning Affirmations For Confidence
25 small things to be grateful for
So, in no particular order of importance, here is my list of small things to be grateful for
1 Life– I'm seriously so grateful to be alive. I woke up and have another day to enjoy life. How can you not be thankful for that?
2 The gift of sight– I opened my eyes and I can see. How amazing is that? I can see birds and flowers and the blue sky and the sun. Yay!!
3 The gift of smell– Mmmm coffee brewing. Need I say more? There's nothing quite like the smell of fresh brewed coffee. But wait, then there's bacon too….mmmm.
4 Internet- I get to listen to all my great morning meditations and morning gratitude prayers via my cool apps, my phone and internet!
5 My phone- Because all of #4 and it keeps me in touch with friends and family far away. Sometimes living abroad can get lonely.
6 My friends and family- While I don't have many friends here in Guatemala or back home, I am grateful for the ones I still have and the new ones I make.
7 My tastebuds– Because coffee and bacon. And then there's chocolate and vanilla tea with limon and so much more!
8 My strong body- I mean, my God, I can walk and stand and run and move around without pain. It's fantastic!
9 My laptop- My magic machine is what I call it. I can do cool stuff on it like write gratitude lists (haha) and create images and so much more!
10 My fridge and stove- A safe place to store my food and a great gas stove that I make all my yummy food on. Like bacon!
11 My coffee maker- Yay coffee. Though on days that I've been without power I've used the stove to boil water to make coffee. You just make it all work!
12 Electricity- The source that makes it all work together. My laptop, my phone, my fridge/stove, lights-EVERYTHING! I live in a country where not everyone has this.
13 Clean water- While you can't drink the water from the tap where I live, we are delivered huge jugs of clean water once a week (or as needed). I'm truly grateful for this service.
14 Flowers- I have the most amazing garden ever and the flowers here sometimes take my breath away! And lavender. Mmmm. The fragance is beautiful.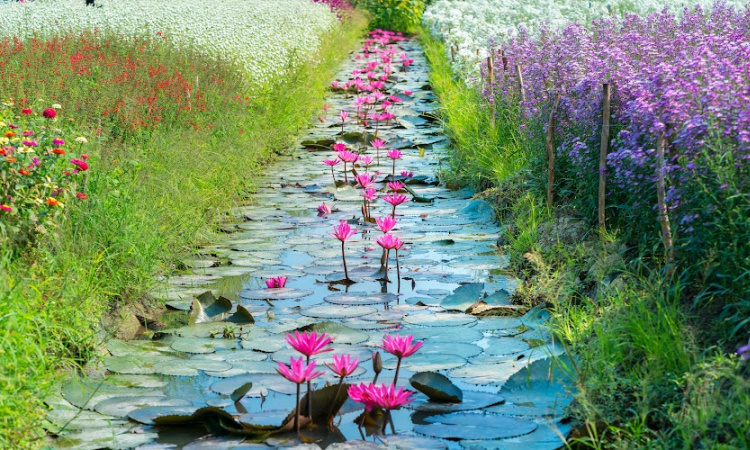 15 My scooter- I love my scooter so much. I can bomb around town and just have fun with it. I put inspirational stickers on mine!
16 Gas- Having gas means I can fuel my scooter and it also fuels most of the means of transportation around the world. Road trip anyone?
17 My clothes- Most of my wardrobe now comes from a ~paca-second hand store. Our town is full of them and for $1.25 I can pick up a sweet dress.
18 Money- To buy gas, and food, and clothes and pay my rent and light bill and everything!! Money does so much. How can you not be grateful for the money you have now?
19 My sharp brain– I mean I seriously love my brain. Yes I'm getting older and forgetting things now but I am still sharp enough to work and write.
20 Breath- My lungs and the oxygen that flows effortlessly through my body. I can breathe easily now that I finally quit smoking after being a 46 year smoker!
21 My teeth- I can chew yummy food, they are nice and clean and they make my smile all bright and cheery and they're all mine!
22 My TV- I don't watch much TV to be honest but I do enjoy the odd true crime story or a good Netflix special. And then there's Game of Thrones and Vikings.
23 My skills- I can do so many things! I can write and create courses and programs and learn how to code and trouble shoot techy things. I impress myself sometimes!
24 Guatemala- I know it sounds weird to be grateful for a country but this place showed me how to truly live, and to be grateful for everything I have in my life.
25 For You- Last but not least, I am grateful for everyone who takes the time to read my blogs. I truly love and appreciate you so much.
Be grateful for small things
You know we're all always grateful for life and family and good health and stuff like that but it's also important to be grateful for small things too. We seem to forget those things.
When you start practicing gratitude, you allow more awesome things to come into your life to be grateful for. I love how this works!
I mean think about this for one minute. When you whine and complain all the time, the Universe gives you more things to whine and complain about BUT when you are grateful for things, well, guess what the Universe does?
You guessed right if you said "it gives you more things to be grateful for".
That's how gratitude works!!! I love it.
Finding gratitude isn't hard
I mean gosh, there are so many unique things to be grateful for every single day. Surely finding gratitude can't be that hard for you!
Maybe you can be grateful for your jammies, or your blankets or your husband/kids/grandkids. So many things!
If you just take some time every day, the morning really is the best time, to stop and smell the flowers, the coffee, the bacon, whatever. Even just a few minutes daily will completely change your life. I promise!
Find something to be grateful for today!
mad love
ox iva xo