10 Best Podcasts For Women Over 50
I'm gonna be honest here, as usual, I didn't even know what a podcast was until about two years ago or so. My friend introduced me to them and also insisted I start up my own. In searching for good ones to listen to, I've found 10 best podcasts for women over 50.
Now you should know that I'm all about personal development, I write an awful lot of self help blogs over on my personal development site Amazing Me Movement and have even written several good self help books too.
I've also recently just created a self help eStore that's jam packed with those self help books I just mentioned as well as a few super powerful self improvement courses and even some one on one coaching.
So clearly I am all about motivational and inspirational tools to help us live our best life. Could I do a self development podcast? I do motivational videos over on my Facebook page every week or so, so I'm no stranger to speaking Live to people.
I needed to explore self improvement podcasts more. And I did.
(this article contains affiliate links so if you make a purchase I make a small commission-affiliate disclosure)
So I did some digging and below is the list of the best podcasts for women over 50, some funny podcasts for women, and some inspirational podcasts for women
10 Best Podcasts For Women Over 50
While there are tons of podcasts for women over 50, I've carefully chosen these 10 for different reasons. I hope you like them. In no order of importance, here they are…
Live Awake with Sarah Blondin
The very first podcast I ever listened to was an uplifting podcast for women by Sarah Blondin-Live Awake. I found her on Insight Timer. She has the most amazing soothing voice I've ever heard.
I was going through a really hard time personally at the time I found her and every time I listened, I sobbed like a baby. Her words are so loving and so beautiful. If you're struggling with self love or self esteem or self anything for that matter, go listen to her.
You won't be sorry and make sure you have lots of tissues on hand.
Unf*ck Your Brain with Kara Loewentheil
The title of that self help podcast alone should let you know she's a no bulls*t kinda gal. She's a powerhouse feminist and Master Certified Confidence Coach who helps women who suffer with anxiety, low self esteem/self confidence/self doubt and imposter syndrome.
Listening to her you kinda feel like you're sitting on a comfy couch sipping tea with your best friend. She discusses so many sensitive topics that most people are too ashamed to discuss. Go check her out. She's pretty amazing.
Thriving Thru Menopause
Join menopause health coach and mindfulness practitioner Clarissa Kristjansson as she takes you on a journey to learn how to holistically take control of your menopause symptoms.
Every week Clarissa covers topics from sleeping better to dealing with anxiety to improving your relationships. She introduces you to a wide range of guests who bring their expertise, insights and practical tips to help you better manage your menopause and its challenges. So you can thrive rather than survive this life stage.
Women Blazing Trails with Iva Ursano (that's me!!)
I'm not gonna take up this space going on and on about how amazing I am (or am not) but I do have to say my inspirational podcasts for women are pretty powerful.
I'm in your face, I use a lot of bad words and I do it all with great love and passion because I truly do want everyone to live their best life ever. I do my best to motivate and inspire you to cut cords, face fears, and believe in yourself. You can find my self help podcast here. No Holds Barred.
Word of warning-if you don't like strong language, this isn't the podcast for you. I've taken a bit of a hiatus from doing self help podcasts but please do check out the ones that are up there on my channel now. Still super powerful today!
side note-I have taken a small break from podcasting but the episodes on my channel are pretty decent!
If you're totally ready to reinvent your life, take back your power, leave the past behind and move on and finally be freakin' happy, you might really like my new signature course Mighty Midlife Makeover.
Let's face it, midlife is hard, exhausting and frustrating and it didn't come with an instruction manual (except for blogs like this one!!). I've created this powerful and transformational course to help you get unstuck and live the life you desire and deserve.
Click here or the image below to grab your spot in this life changing course so you can make the rest of your life the best of your life.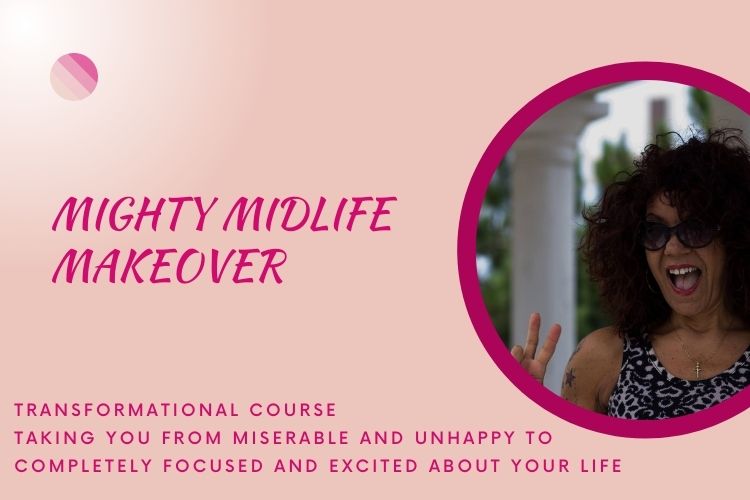 The Me Time Midlife Podcast
Kim Acedo is a health and self care coach for midlife women .This podcast is for women who are tired of taking care of everyone else and are ready to do life on their terms.
Join her as she interviews experts and explores topics such as health and aging, grandchildren, retirement, empty nest, adult children, friendships, wardrobe, decluttering, travel, self-discovery, and more!
Midlife Matters
Julie, Marie and Mindy talk about all things midlife from parenting to health and having fun while they do it. They discuss all the topics that keep women up at night!
This well established podcast for women over 50 should hit every issue you need to learn about and grow from.
The Mel Robbins Show
She da bomb! I love Mel. She covers topics from abuse and anxiety to family issues and self esteem. She's the real deal and so genuine. You can't not love her.
At 41 she had hit rock bottom and one simple thing she did one morning changed her entire life! Her book The 5 Second Rule helps you to reinvent your life, believe in yourself and succeed beyond your wildest dreams.
To 50 and Beyond
Welcome to To 50 and Beyond! Where aging is made joyful, confident, and alcohol-free! Your host, Lori Massicot, is a Certified Life and Recovery Coach who is on a mission to bring you weekly insightful and fun episodes every Tuesday.
You will laugh, learn, and get inspired as Lori and her incredible guests share real solutions that ELEVATE your mindset, self-care, and habits and behaviors to age with joy, excitement, and freedom from alcohol.
This Unmillennial Life
Regan Jones keeps it real and listening to her is like chatting with your bff over coffee or wine!
She talks about everything from food (she's a registered nutritionist) to retirement savings plans.
The Universe Has Your Back with Gabby Bernstein
Gabby is plain and simply adorable!! She's a true motivator and inspirer. She wants everyone to live the happiest life they can and manifest amazing things into their lives.
Her best selling book The Universe Has Your Back is powerful and is full of tips and tricks and little exercises for you to do so that you can manifest all the good sh*t in your life that you want and deserve!! I bought the book and love it!
I also got the accompanying daily affirmations card deck and pick a new card each day. This card becomes my inspiration for the day!
In summary
I've recently stumbled upon Suzy Rosenstein and though I haven't really given her a listen yet, she seems to be quite popular! You can check her out here.
There were actually a few more that never made it to the list of the best podcasts for women over 50, not because I don't like them, but because I wanted to keep this list to 10.
Whatever kind of inspiration or encouragement you are looking for, I think the self improvement podcasts listed above should keep you going for awhile.
What are some of your favourite personal development podcasts to listen to? Leave a comment down below so we can check it out too!
mad love
ox iva xo