Never Feeling Good Enough? 5 Things to You Need to Know
I honestly don't know if it's a combination of menopause and midlife crisis or what but there are many times I feel like this-never feeling good enough. As we get older, for some reason we feel worthless, like we're not enough.
In this article I want to talk a bit about why we have these feelings of not being good enough and I'm going to share 5 things you to know that will remind you that you are good enough indeed!
You know, I think most of us are on our own now, either divorced or widowed, empty nesters, retired from our jobs, etc. You get the idea. We feel like we've done our jobs as wives, moms, workers and now what's left for us to do.
We don't feel like we belong anywhere. Maybe our friends are still married or still working. We just feel lost, lonely and hopeless in this big world. It's a scary feeling.
Many of us are starting over alone and feel lost, hopeless and helpless.
Let's talk about all this now. Grab your favourite bevvie and let's get started.
(this article may contain affiliate links so if you make a purchase I may make a small commission-affiliate disclosure here)
Why do I not feel good enough?
If this isn't one of the worst feelings in the world, then I don't know what is. Never feeling good enough is emotionally and mentally exhausting. We're constantly questioning ourselves:
"Why do I not feel good enough?"
"Why do I feel worthless?"
"Why do I feel ugly and worthless?"
It can be depressing. I can't tell you how many times those thoughts ran through my mind. At one point I was sure I should just give up and call it a day. Life, or should I say midlife, was starting to suck the life out of me.
When you don't feel good enough or you feel worthless it takes away all your motivation to want to do anything or be around anyone. You suddenly feel like people don't want to be around you because of your unworthiness.
FYI-that's all in your head.
But depression in midlife sets in and if you've never had depression before, it can be crippling. You don't know who to talk to. You think no one will understand you. You feel so alone and helpless.
What happens when you don't feel good enough?
The feeling of worthlessness is not only heavy but very damaging if you don't get a grip on it soon. So many of us suffer with so many self limiting beliefs and what happens is that our self confidence and self esteem, not to mention our self worth, takes a beating and for some, our will to live goes away.
This is why it is of the utmost importance to deal with it and heal from it as soon as you recognize you are starting to feel worthless.
Because our society is youth based, as we age we start to feel invisible.
Our youth-obsessed society is not always kind to aging women. Like many women, you may feel invisible once you reach middle age. You may feel pressure to mask the signs of advancing age.

Source Healthline
The struggle is real. We are no longer youthful and fitting in is not an option. Not only that, trying to fit in validates our limiting belief that we aren't good enough exactly as we are.
I want to share with you 5 things you need to remind yourself of when you feel worthless or not good enough.
You might also really like these articles from this site:
How to Start Over at 50 With Nothing
Am I Having a Midlife Crisis? – 10 Signs You Are
How to Get Through a Midlife Crisis
Never feeling good enough-5 thoughts to help you through that
I share these thoughts with you in hopes that next time you that never feeling good enough thought comes across your mind, you will remember these and remind yourself that YOU ARE GOOD ENOUGH, just the way you are.
I know sometimes when I look at my aging face in the mirror I feel ugly and worthless and I have to do some serious positive talk. Trust me, it works!!
1 Our minds offer us negative thoughts sometimes
Next time you have that never feeling good enough thought I want you to stop it and tell yourself, "Ok, this thought could be true but what else could be true?" Then think of some positive thoughts to counteract that one. Thoughts like "I'm a great neighbour to Mary" or "I'm a really good cook and I love cooking for my friends" will put a smile on your face.
Someone somewhere is thinking of you and smiling
2 No one's perfect
We often expect so much from ourselves and we neglect to look around and realize that no one's perfect. We're all doing the best we can with what we know and have. You are perfect just the way you are and you don't need to change or 'fit in' to feel worthy.
You are good enough, just the way you are
3 Live in the moment
I know that sounds so cliche but living in the past doesn't serve you and looking ahead to how 'horrible and lonely' you think your future is going to be doesn't serve you either. Be right here, right now. Find something to do that brings your heart joy.
Happiness is yours to create right now
4 Stop comparing yourself to others
We all do it. Even I still do sometimes. This is the worst use of your time and energy. We all got to where we are now through different means. Do you know the road Penny had to travel to get to where she is now? It was most likely long, messy and hard.
We are all amazing in our own unique ways
5 You're not alone
Call up one of your friends and talk to her about how you're feeling. Chances are, she probably has days where she feels not good enough too. Bounce ideas and thoughts off each other. Maybe she has good tools to help her get through this and she can help you too. Or maybe the two of you together can start doing something fun that will give you back your self worth
Friends offer free therapy!
I don't think I'm good enough
I still have days when I don't think I'm good enough. Often I'll catch myself thinking thoughts like:
"Well who are you to offer advice to midlife women?" or
"Well why should anyone want to buy your books?" or this one which is my least favourite
"Well what makes you so special?"
See, I still have those thoughts but I have learned how to challenge them and turn them into a positive thought. Please do that next time you have negative thoughts.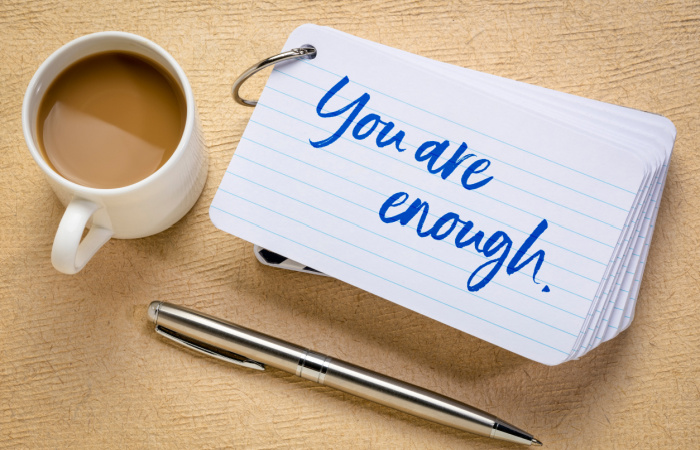 Never feeling good enough helps build strength of character
I know that sounds weird but hear me out. So many people never deal with their toxic behaviours or thoughts. They just live with them and let them consume them. But you're here right now reading this and learning how to let go of toxic thoughts.
That's huge!! You seriously need to give yourself a big hug for recognizing these negative thoughts and taking action on correcting them.
So many don't.
This is making you a stronger better person. One who will know without a doubt that she is good enough and she is worthy! You'll see!
Before you go, please check out my new signature course Mighty Midlife Makeover. This self improvement course is jam packed with all the tools you need to help you make the rest of your life, the best of your life.