8 Things You Should Know About Panajachel, Guatemala Before You Go
While I was drafting up this blog I decided I didn't want to talk about population, and the volcanoes and elevation and all that boring-ish stuff. You can find Panajachel, Guatemala facts on Wikipedia or Lonely Planet.
We wanna talk about the good stuff here!
Panajachel is one of the most spectacular villages around Lake Atitlan. Sitting on one of the most beautiful lakes in the world surrounded by volcanoes and lush mountains, you won't be disappointed, er, at least I don't think so.
(this article contains affiliate links so if you make a purchase I make a small commission-affiliate disclosure)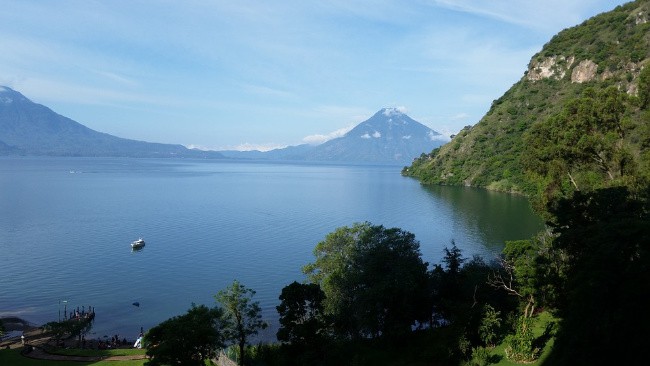 Moving to Panajachel Guatemala
So moving to Panajachel, Guatemala was never on my bucket list. It still honestly blows my mind that I even ever landed there. I lived there for 4 years and was certain I would stay forever but the curious girl in me wanted to see other places.
So, sadly, we left (we meaning me and the curious girl who lives inside)
Anyway, let's move on (ooph pardon the pun)….
When I decided to move to Panajachel, Guatemala, International Living was my go to source for information on it.
A tea leaf reader suggested (I'm not even joking) Guatemala but I was on my own to find a place to live there. After reading about all the pretty lake towns, it was Panajachel I decided upon because it really does have so much more to offer than the other smaller towns around Lake Atitlan.
You can read more about the other lake towns at International Living. It's a great resource.
Panajachel, Guatemala it is!
Before I start, you should know that I came down here on a song and a prayer, without doing much research at all. Remember, I had someone else choose the country for me and Guatemala it was.
Yup, I kid you not.
Though I did read a bit on IL about it, I hardly spent any time at all doing further research. I liked what I read and was prepared to take a chance.
Anyway,  I bought a one way ticket….the rest is history.
I found an animal rescue organization that I volunteered at. The weather, for me, is perfect. My Spanish got better in time. I still practice every day. Finding your way around is ridiculously easy and if you ever get lost, there's always a gringo or a local to help you.
It has everything you need, sort of, with two grocery stores, a couple of gringo stores, plenty of pharmacies and other stores. Walmart is a short-ish two hour drive away (depending on your means of transportation that is).
There are many things to do in Panajachel such as:
climb a volcano
go ziplining (this is spectacular!)
visit ruins
go on chocolate/coffee tours
jump on a boat and visit other towns around lake atitlan
paragliding
just to name a few!
Let's talk about some basics and then move on to the things you should know before you come here.
Is Panajachel safe?
I always felt extremely safe in Panajachel and never felt threatened. Not by humans anyway. Critters are another thing.
Like anywhere you go, even in your own city, you must use common sense.
You know the usual:
don't get into cars with strangers
don't walk in dark places alone
don't leave your wallet or purse unattended
don't leave your drink unattended
These are some of the cautions you would exercise, period, no matter where you live.
Panajachel is a lovely small indigenous town and no one there wants to hurt or harm you. The locals rely mostly on tourism for their economy. Why would they want to hurt you?
They don't. You're totally safe here!!
So many of my friends were concerned when I first told them I was moving to Guatemala. "Oh Iva it's not safe and has a high murder rate".
Yes it does. What they don't realize is that the high murder rate is due to husbands killing their wives. Sad but true. You can read more about that here. Other murders are gang/drug related (in the bigger cities).
Panajachel weather
Is AH-MAZING all year round. Temperatures daily are between 22-28° C. Mornings and evenings are fresh with only a light sweater or jacket required.
But let's not forget rainy season which can be obnoxious sometimes. During rainy season which is May-October, you can expect the rains to start pouring down around 2 in the afternoon until early evening. Generally. Some days it's a light rain, other days it's torrential.
It doesn't necessarily rain every day either. Usually in July there is a 3 week break from the rain and it's sunny, warm, lush and green. Heavenly, really.
So the mornings are still beautiful and some evenings it's still nice enough to get out and enjoy this lovely lake town and all the night time street food.
December-February can be slightly cooler (maybe 22-25° ) with windy season also in full effect. Still not a bad time to visit! In my opinion, November is the perfect month to visit.
Places to stay in Panajachel, Guatemala-hostels, Airbnb, or hotels
So before we get into this, please know that Panajachel isn't a beach resort type place. There are several wonderful places to stay and only a very few (and I mean very few) select luxury places.
I stayed one night at this amazing place and it's pretty damn spectacular. If you want peace, romantic, luxury and eco friendly too, check out La Fortuna Lake Atitlan (link below). It's breathtaking beyond belief.
The owners are absolutely amazing peeps too!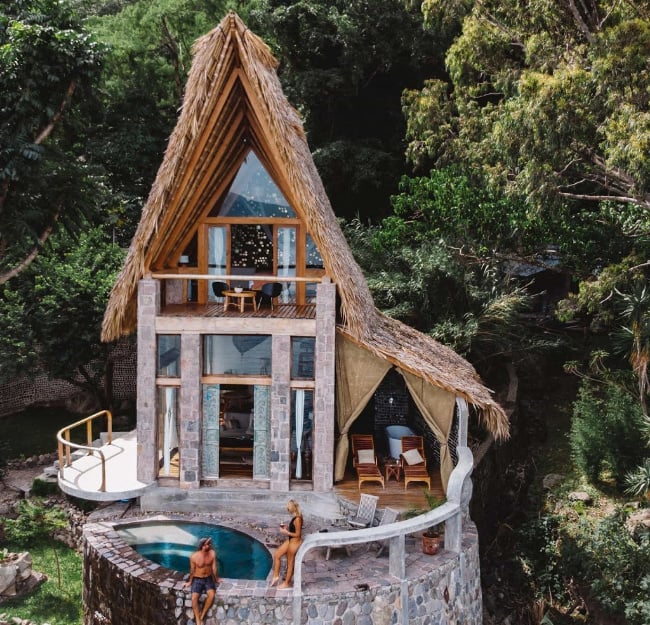 We also recently stayed at another 'so called' luxury resort but we didn't find it so luxurious at all. Like. At all.
If you are a budget traveler there are plenty of hostels all around the lake, not only in Panajachel. It's a quick, easy and cheap water taxi ride to any of the towns. Some of the other little towns around the lake you may want to visit are:
San Marcos
San Pedro
San Juan
Santiago
Santa Catarina
San Antonio Palopo
Santa Cruz
(and a few others I can't spell or pronounce!
Here's the Google link to the map of Lake Atitlan so you can see all the little towns yourself. You'll also see how easy it is to just hop on a boat and head to any of them!
All towns are lovely and have their own vibe and feel.
Follow this link to get some information on some of the hostels around Lake Atitlan.
There are usually plenty of Airbnbs to book, depending on the time of year you are going.
No matter what your budget, Panajachel has exactly what you are looking for…
And then some. Like the things we are going to discuss below.
Before we get into this, please check out my fun video from my YouTube channel on Panajachel Lake Atitlan. It's a little tour of where I live.
8 Things You Should Know Before You Come to Panajachel, Guatemala
Even though, in my opinion, it is heaven on earth, it's not for everyone. Like any place on the planet, there is bad that comes with the good. If you can handle the bad, and take it all with a grain of salt, then you'll be just fine.
If you're a dog lover, don't come here
There are many dogs roaming the streets all day and night. They are, for the most part, homeless, sick, hungry and dirty. They are very skinny, they lay around on the sidewalks, flies buzzing all around them.
Yes, it's pretty sickening actually. If this is going to make you cry and become extremely upset, don't come down here. You will never want to leave your house.
In most neighbourhoods, no matter where you go, you will hear dogs barking all night. Every night. Bring earplugs.
Unless you wish to come down here to help! Then you've come to the right place. I've recently started a YouTube channel, Street Dogs of Guatemala, where you can watch me in action and even help too!
If you're a dog hater, don't come down here
Read #1 again but the twist to this whole stray dog situation is that there is dog poo EVERYWHERE!! You are constantly side stepping dog poo. You want to look up to see where you are going and look at different things but then you have to look down so you don't step in fresh, poo.
Look up, no wait, oops, look down. Oh damn. And don't forget the endless barking.
Ya, if you don't really like dogs, just stay home.
(and if you don't like dogs, we can't be friends)
It's very very poor down here
Poor like you see on TV. Ya, the TV isn't kidding. It's just like that.
You will be bombarded continually by vendors trying to sell you their things and, I might add, their things are very beautiful!! Some of the vendors send their very young children after you to tug on your heart strings and trust me, it tugs.
If you don't like being harassed by street vendors constantly, this might not be the place for you, but remember, they are all just trying to support their families. This is their job.
There are people begging for money on the streets. You pretty much can't avoid it unless you just stay inside. If none of this bothers you and don't mind handing out a dollar or two to help poor people, you'll be just fine here.
It's very very beautiful down here
The culture, the mountains, the lake, the volcanoes. It's all very breathtaking.
Everywhere you look you see beauty. The ladies in their native dresses, the cute little tuk tuks, all the colours of the clothes, blankets, tapestries, wall hangings etc., and the surrounding mountains.
So much beauty in Guatemala. Who knew?.
The sunsets are gorgeous, the sunrises are too. The people are beautiful (the guys are hot!). There really is so much beauty here!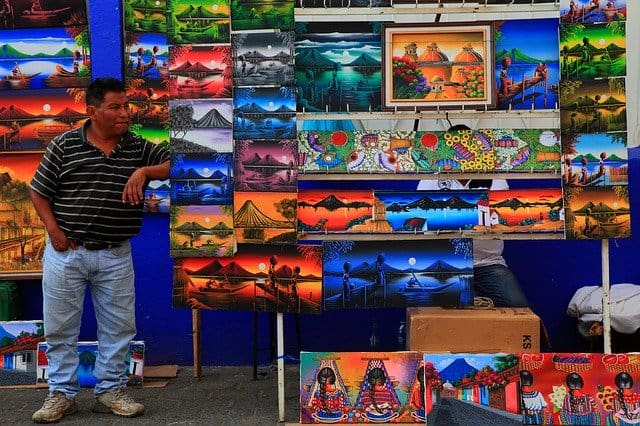 There are many things you will miss from home (if you plan on staying for a while)
I'm a purse candy fanatic. Sweet-tarts are always in my purse. Well, they used to be. Not anymore.
The purse candies they have here are crap. I brought my own huge tub of Coconut oil, though it is available here it is very expensive.
There are many first world things you are going to miss because some things are next to impossible to get here. If you can live without 'your things', you'll be ok here. You might like this fun article:
25 Things I Can't Live Without or I'll Go Crazy
It's certain foods you miss, radio stations, driving your car, going to your gym, using a washer and dryer. Things like that that we take for granted. I brought down as many things as I could to make it always feel homey.
You may even miss the 'normalcy' of life in a first world. It's anything but normal in Panajachel. It's amazing to be honest.
You may get ripped off
Learn how to negotiate prices. When you go to buy something, the vendor will start at a stupid high price because you're a tourist. Start low and work your way up to the middle somewhere.
If you don't know Spanish before you come down, at the very least, learn your numbers so you don't get taken advantage of while purchasing things.
The Italian in me comes out hard core when it's time to go buy things. Many of my friends will ask me to go shopping with them just so they get a good price. Ya, I'm ruthless. You should be too.
It's pretty easy to get around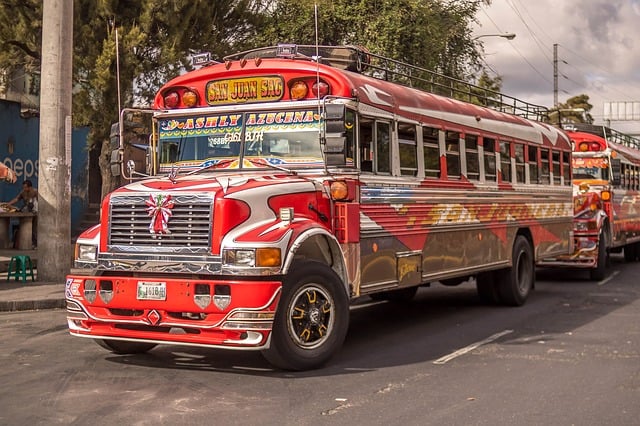 Between chicken buses, tuk tuks, water taxis, pickup trucks and private shuttles, transportation is super simple and really affordable. Though the chicken buses can be quite dangerous ( yes many have rolled over and many have died) I've never minded taking one to get to the next town up the hill.
You really just say a prayer before you go.
And because the town is relatively small, you can walk just about anywhere you want to go! For real.
And there are plenty of expats/tourists to mingle with at any of the local bars. And there are many many bars. Nightlife is definitely a thing there.
It's really loud here
Always.
Between the dogs barking, the celebrations that go on randomly that only the Guatemalans know why, the trucks with their huge blaring speakers selling or announcing something, the church services (and bells), the bombas (it's not as scary as you think) and the fireworks/firecrackers….
Ya, it's pretty constant.
Horns blaring, dogs, speakers, party boats, the man in the market with his hand held speaker yelling about Jesus Christ, if you can handle constant random noise, you'll be fine here.
One final warning before you go to Panajachel, Guatemala
Many go for a short visit and never leave. It's that beautiful.
The way of life is very simple, easy and laid back. With perfect weather, lovely people and gorgeous landscape, why would you want to leave?
One more thing to mention is that renting an apartment or house is super affordable. Another reason why people don't leave. Food is fresh and cheap, transportation is reliable and cheap and apartments are nice and cheap.
Who doesn't love the word cheap?
I had a beautiful one bedroom, two bathroom apartment, secured, with TV and cable, stunning view of the lake and volcanoes for…wait for it…. a measly $312 CDN. Hell-O!!
Ya. So my final warning about Panajachel Guatemala, you just may never leave. But if you do, you'll be back. Everyone always comes back.
Peace and Love!
Iva ♥