25 Things I Can't Live Without (or I'll go crazy)
There's so much talk and news of the situation at hand it's hard to not see it in any feed you are following. I don't want to talk about it. I'm doing my part to stop it and I hope you are too. Today I want to write something a little more light hearted which is why I'm doing this list of things I can't live without.
I'd love for you to share your things you can't live without in the comments below too!!
(this post contains affiliate links so if you make a purchase I make a small commission-affiliate disclosure)
Realizing there are things I can't live without
When I moved to Guatemala there were so many things I was used to having in Canada that you simply can't find or get in Guatemala so I learned to live without them. It was tough af but I did it.
I recently moved to Mexico and the things I couldn't get in Guatemala are easy to get here but there are still some things you can't find here. I'll usually reach out to someone in Canada or the US to send something to me if I'm really desperate but we also have mail and delivery service here, something I never had in Guatemala.
Anyway enough babbling. Here are the things I can't live without.
25 Things I Can't Live Without
Before we start, there is one thing I absolutely can't survive without and that's God. 💗
In no particular order of importance, here we go:
Coconut oil
It's the only thing I cleanse my face with and will often slather it on my hair (if my ends feel dry) and my skin. I used to use it a lot for cooking but really don't like the taste.
I'm thankful I can buy coconut oil just about anywhere, albeit, a little pricier down here.
Salon professional hair products
The hairstylist snob in me won't use drugstore products ever. Though I've had to settle for regular shampoo and conditioner a few times, styling products have to be professional.
I'm an Argan oil/Babyliss freak and my curls love these products.
Music
Life without music is…well, dull and boring. As soon I turn on my laptop to start work I put music on first. Usually I listen to a jazz stream on YouTube. In the evening I'll kick it up and listen to my own fun Spotify playlist.
All day. Music is playing.
Aloe Vera Gel
Another product I use on my face daily. It's great for my zits and wrinkles (what a lovely combination). Thankfully I can go right outside my door and pick fresh Aloe Vera.
In case you can't do that, it's easy to order some pure gel online from Amazon. Aloe vera has a million and one uses!
Check out this great article from happy DIY home on aloe, why it turns brown, and some solutions!.
Post-it notes
I'm such an old fashioned pen and paper kinda gal. I still use note pads and daily planners for all my work. I've tried online programs but just can't get into them.
I have post-it notes all over my house. Some have passwords on them (shhhh) others have affirmations but I def will not go to the grocery store without a list written on, you guessed it, my post it note.
Chocolate
I eat chocolate every single damn day. Out of all the things I can't live without, this probably should have went on the top of the list.
I seriously love chocolate. All chocolate. Any chocolate!
Now the chocolate here in Guatemala is good but I still crave Canadian chocolate bars, so I get my first world peeps to bring me some down when they come to visit.
Yay first world chocolate!!!
And by the way, Nutella makes this list right here too!!
Foundation
I have really bad skin. I have all my life and though I'm not ok with it and I haven't got used to it, I'm ok with covering it up when I go out in public. I use foundation every single time.
I'm just really self conscious about it. I don't think that will ever go away.
Internet
For real. I can't live without internet and apparently neither can most of the world. It's how I work and do my things. It's how I connect with my friends and family around the world.
Go a day or two without internet and check your sanity level after 5 or 10 hours. Ya. You know what I'm talking about.
Sage smudge sticks
I'm a space clearing freak. If I feel the energy in my house needs some freshening up or an uplifting boost, I'll smudge the entire house. I also use them if I've been feeling low and need to pick my spirits back up. I'll clear my own personal energy (and it feels so damn good!)
I had a friend bring me down some lovely sage smudge sticks from the US.
Palo Santo is another good alternative to sage. Both smell wonderful imo.
Bananas
I know. Weird. But honestly I actually crave bananas as bad as I crave chocolate. I can't explain it. And they have to be perfect meaning, no brown spots (ick).
I eat a banana every single day, sometimes 2 or 3. That's how much I love them.
Chapstick/lipgloss
Who else is with me on this one??
I know I'm not alone. I have a desk chapstick, a nightstand chapstick, a purse one, a travel bag one, you name the place, I got a chapstick there. Some are flavoured, some have a hint of colour.
(maybe this should have went on the top of my list of things I can't live without? 😜)
I simply can't stand the feeling of dry lips…ick!!
My Earth Spirit sandals
The.best.sandals.in.the.world!!! I got hooked on these suckers a few years ago and now that's all I ever buy. I fell in love with my latest pair a couple of years ago and now can't find them anywhere.
They are all sold out, like everywhere!
They are like walking on clouds (ok so I've never actually walked on a cloud but I think these shoes is what it would feel like).
Salt lamp
I have to admit, when I moved to Guatemala I didn't have a salt lamp and I missed mine from Canada terribly. I went over 4 years without one but I finally have one.
A girlfriend from the states let me order one and have it shipped to her house. When she returned to Mexico I got my salt lamp!!
Yay!
They are just so darn soothing and beautiful and also have some great healing properties! You can find out more about salt lamps in this article.
Candies
But not just any candies. Good candies from Canada!! Oh how I miss those ones. I can easily pick up decent jelly beans here but the rest of the candies here suck so bad.
I just got my son to deliver some red licorice, licorice all sorts and goodies for his momma (he's such a good boy). I'm drooling while I type this waiting for them to arrive.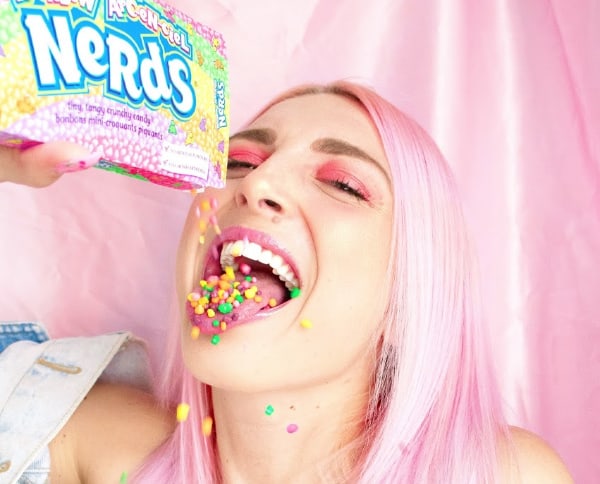 My earbuds
I am plugged in every moment I leave the house. I'm always listening to music on my phone and I have the best earbuds on the planet (thanx to my awesome kid 💖)
I also use them at bedtime if I want to listen to a hypnosis or a great podcast. I love my earbuds!!
My healing gemstones
I swear I have thousands of healing gemstones. They are all over the house, kinda like my chapstick. I have gemstone jewelry that I wear daily and stones all over my desk, my computer, my nightstands, everywhere.
So many people still don't understand or believe in the healing properties of gemstones. I wrote this great article you might enjoy that explain things about gemstones.
Peanut Butter
Ok. Go ahead and call me a freak as many of the things I can't live without on this list happen to include food.
But I just love food and eating!! So much so, I eat about 5-7 times a day. 3 healthy meals and a bunch of snacks in between. It's any wonder I don't weigh 500 lbs!
I make sure I never run out of this delectable creamy nutty treat. Yum peanut butter!! Oh and peanut butter cookies? Be still my heart!
Coffee
Hell-O coffee lovers rejoice and unite!!
I honestly can't even think of a day where I haven't had coffee. Ever. Have you? I'm not sure if it's the caffeine or the flavour but man oh man I love me some good coffee!!
I have started drinking more warm water with fresh ginger and lemon during the day though but still get my coffee in the morning, after lunch and after dinner, without fail.
My hair diffuser
When my last one cracked I almost died. It was tragic for me. I cannot blowdry my hair without my hair diffuser. Otherwise it just looks gnarly and horrible.
If I'm going to straighten my hair (love love love my titanium flat iron!) I don't need my diffuser but I really don't straighten as much as I used to anyway.
Phone calls/video calls-chats
You know the regular, dial a number and hear an actual friendly voice kind of phone calls. I'm kind of sheltered where I live now besides the fact that no one is getting out these days due to the world wide quarantine so I need to hear voices.
I have a couple of really good friends who I talk to once a week and of course, my son and I talk quite a few times a week. I need to hear laughs, see smiles and connect with the people I love.
Sumatriptan
It's the only pill I can take that will completely obliterate a migraine. I've tried tons of other medications and this is the only thing that works almost instantly. I don't get migraines very much anymore but I used to get them quite often, sometimes twice a week.
I'm thankful it's very affordable here in Guatemala. In Canada my pills cost a little over $100 for 6. Here it's around $32. Yippee!
Whiteboard
I friggin love my whiteboard! I write down all my long term and short term goals on it and look at it about a million times a day. It keeps me motivated to focus and remember my why.
Though I'm not going to bash vision boards, if you are looking to achieve goals and manifest things, whiteboards and mind-mapping is the way to go.
You can read more about mind-mapping here.
My journal
I write in it every single day. And it's a really beautiful one I bought in Guatemala. Before I left Guatemala I bought another one to replace this one when it's full.
I love journalling my thoughts which are always positive aspects of my life. I try to write out 10 things I am grateful for each morning before I start work!
Insight Timer
Now I know there are millions guided meditations on YouTube and other free sources but I just love Insight Timer. I've already fallen in love with a few of the teachers and I listen to them daily, every single morning.
I usually choose Insight timer for morning meditations and YouTube for evening ones. I like the fact that with YouTube I can just hit autoplay and it runs all nite.
UFC
Call me a savage beast but I friggin love UFC. So much so, I subscribed to the channel and get to watch it whenever the heck I want on my Roku box. I also can't live without, and love, my Roku box!!
People are always so shocked when I tell them I love UFC and Vikings and horror movies and such because I'm such a sunshiny optimistic girl but my evil twin loves this kinda stuff. And besides, who doesn't love hot sweaty tattooed men? :p
What's on your list?
So that's my fun list. I'd love to see what is on your list. Please don't be shy and feel free to drop down below at least 5 things you can't live without.
I hope you enjoyed this light hearted article.
I totally get that the news is very important right now but every now and then it's just nice to read something light.