40 Thankful For Another Year of Life Quotes
I turned 60 this year and I still can't believe it. Every morning I am grateful for the gift of life and every birthday I'm also grateful for one more year. I thought I'd write a 'thankful for another year' quotes article in hopes you'll enjoy it.
This year I had a very happy birthday, celebrated with some very special people in my life. I'm away from my family members (I live in Guatemala) so my friends are like family and my birthday celebration was beautiful.
Do you take time each day to express gratitude? For anything, ever? Or do you wait for a special day to show gratitude?
Gratitude is the highest form of thought and when we can get into that state, life will be easier
I have a morning ritual I do without fail, every single day. After I do my morning meditations and prayers, I get my journal and I write out at least 10 things I am thankful for and when all that's done, I can start my work day with a grateful heart.
This daily practice of gratitude has improved my life and made me a better person. You should try it if you don't already.
(this article may contain affiliate links so if you make a purchase I may make a small commission-affiliate disclosure here)
Being Thankful For Life as We Get Older
So many of us lived full and wonderful lives filled with adventure and mind blowing experiences. The 70's and 80's were amazing, amirite?
To this day I still can't believe I'm even alive after all the crazy things I did in my life! As I look back on this past year, so many great things happened for me and to me, as well as not so great things but no matter what happens to me in my life, I will always have an attitude of gratitude.
Sometimes you win and sometimes you learn but you never lose or fail. Remember that.
I was scrolling through social media the other day and came across some thankful for another year quotes and it really made me stop and feel gratitude.
I think too many of us take this life for granted and we forget that so many people never even make it to their 30's 40's 50's and beyond. How truly blessed we are.
Here are just a few good things I'm grateful for as I get older:
my good health
my great eyesight
I can hear
I can walk and move and dance and run if I had to
I have still have a sharp mind so I can work and create things
my close friends
God's grace in my life
I also feel that each year I get better and better, wiser and stronger and way more loving and caring. It's a weird transformation. You just think about things differently and see things in a whole new way.
Anyway enough of me babbling. Let's get to the thankful for another year quotes. I hope you like them and please share if you do!
You might also like this fun article from this site
15 Funny Midlife Crisis Quotes
40 Thankful For Another Year Quotes
I'm gonna separate this into a few different categories. There will be some thankful for another year quotes by famous people, some are anonymous (unknown) and then some:
funny quotes
birthday quotes,
best year of my life quotes,
inspirational quotes,
thankful quotes
random quotes, and
Christian quotes
Here we go! Please enjoy and don't forget to hit that share button or Pin It!
Funny Quotes and Birthday Quotes
1 Everyone should feel popular at least one time a year on Facebook. Thanks for the birthday wishes!
2 Thank you to all the people who walked into my life and made it great. Thank you to all who left my life and made it fantastic!
3 Another year older but definitely not any wiser
4 Here's to another year to prove that older doesn't necessarily mean wiser
5 Thank you all for reading your Facebook notifications and realizing yesterday was my birthday.
Best Year of My Life Quotes
6 This year was the best and worst year of my life for that I am thankful for.
7 With each passing year, I'm always certain that the last year was the best year of my life and then I realize it's up to me to make each year a good year.
8 Some days I wish I could go back in life. Not to change anything, but to feel a few things twice.
9 Each new day is a blank page in the diary of your life.
10 Be clear on where you are and where you want to go and you will get there. It can be the best year of your life.
Inspirational Thank You For Another Year Quotes
11 Let us never know what old age is. Let us know the happiness time brings, not count the years.
12 In life, you have a choice to take one of two paths: to wait for some special day to celebrate–or to celebrate each day like it's special.
13 A birthday is just another day of your time here on earth. Age is a state of mind, and you are as old as you think you are. Just count your blessings and be happy.
14 Every day I'm grateful to be on this side of the grass.
15 Cheers to myself for surviving another year! May I have many more wonderful and crazy years full of life ahead of me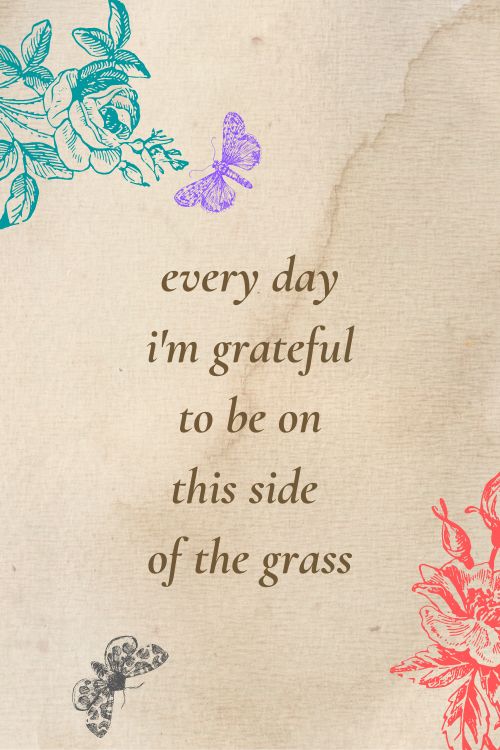 Thankful Quotes
16 I am thankful that I have become another year older, another year wiser and another year more prepared for what lies ahead of me
17 I am enjoying the little things in life as they are the ones that make big things. Blessed to see another year!
18 Things have not been that smooth for me. But, a year older and at a start of a new year in my life, I am hopeful things are going to be right. 
19 A year ago everything was so different. It's amazing how much can change in just one year.
20 There is more to being blessed with another year in life and that's why you need to appreciate and be thankful for another year.
Famous People Thankful For Another Year Quotes
21 Reflect upon your present blessings, of which every man has plenty; not on your past misfortunes, of which all men have some. ~ Charles Dickens
22 This is a wonderful day. I've never see this one before ~ Maya Angelou
23 Be thankful for what you have; you'll end up having more. If you concentrate on what you don't have, you will never, ever have enough. ~ Oprah Winfrey
24 Cultivate the habit of being grateful for every good thing that comes to you, and to give thanks continuously. And because all things have contributed to your advancement, you should include all things in your gratitude. ~ Ralph Waldo Emerson
25 Be thankful for what you have; you'll end up having more ~ Willie Nelson
26 Gratitude can transform common days into thanksgivings, turn routine jobs into joy, and change ordinary opportunities into blessings. ~ William Arthur Ward
27 As we express our gratitude, we must never forget that the highest form of appreciation is not to utter words, but to live by them ~ John F. Kennedy
28 Gratitude is a divine emotion. It fills the heart, not to bursting; it warms it, but not to fever. I like to taste leisurely of bliss. Devoured in haste, I do not know its flavor. ~ Charlotte Brontë
29 Thankfulness is the beginning of gratitude. Gratitude is the completion of thankfulness. Thankfulness may consist merely of words. ~ William Faulkner
30 Let us rise up and be thankful, for if we didn't learn a lot today, at least we learned a little, and if we didn't learn a little, at least we didn't get sick, and if we got sick, at least we didn't die; so, let us all be thankful. ~ Buddha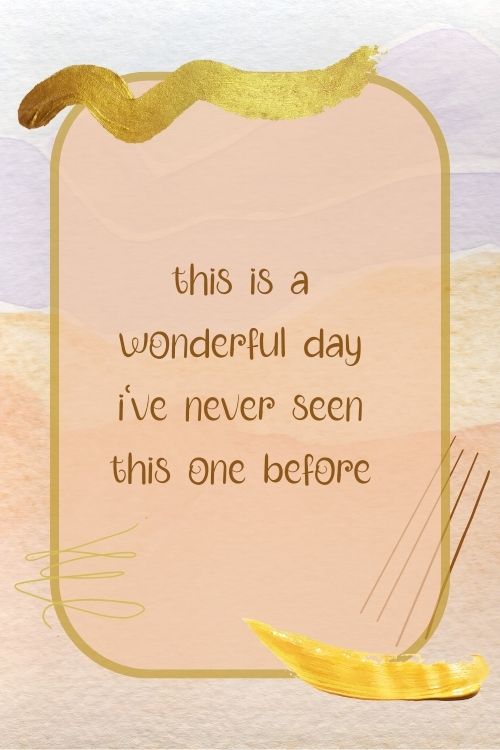 Dear God – Dear Lord Christian Gratitude Quotes
31 I never would have made it without you. God, thank you for yet another year of my life and your joy in my heart.
32 Thank you for staying by my side for another year of my life God. You brought light when all I saw was darkness.
33 Dear God I am alive today because of your love for me. Thank you.
34 May God's blessings be with me today and every day for the rest of my life.
35 From the bottom of my heart, dear Lord, thank you for keeping me safe all these years.
36 Last year was an awesome year in my life. It was full of blessings. Thanks to the God. This year I am looking forward to another wonderful year full of love and blessings.
37 A special day comes with so many blessings, happiness, love, and peace of mind. Thank you, God, for blessing me with another year in my life!
38 This is another chance to make things right. Thank you Lord Jesus for another year of my life!
39 Death comes knocking at any time, but for as long as I have breath, I will be grateful. God, thank you for another year of my life.
40 God has been faithful to me. Adding another year to my life is such a blessing. I will forever be grateful to you dear Lord for allowing me to see another year of existence.
Don't Forget Gratitude Wins the Day, Every Day!
I hope you liked this post filled with thankful for another year quotes and other gratitude quotes. Being alive is reason enough to be grateful.
Now look, I get that everyone's life is rainbows and lollipops. Mine hasn't always been and I still have really bad days but I'm still here and still trying.
No matter how bad things get, don't give up. Your miracle could be right around the corner.
xo iva xo