25 Unique Gifts For Women Over 50
Well it's almost that time of year again though I wonder if this year Christmas shopping will be different? I imagine so. I think people got used to shopping online and maybe even prefer it! I know I do. Anyway I came up with this list of unique gifts for women over 50 you can order online.
Now you should know these gifts can be bought for any special occasion, not just Christmas, so keep this blog and list handy! Bookmark it even.
(this post contains affiliate links so if you make a purchase I make a small commission-affiliate disclosure here)
Gifts for the woman who wants nothing
How many times have you heard, "Oh don't buy me anything, I don't need or want anything"? Not a very helpful response when you're trying to figure out what to buy for the women who have everything and don't want anything.
They are probably telling the truth. They really don't need anything but don't be fooled. If you bought them the coolest gift on the planet, they will be very grateful and I'm sure they'll love it too!!
These unique gift ideas for women over 50 are sure to please and probably nothing they would ever buy, or think to buy, for themselves. They will love you forever!
And let's face it, by the time we hit 50 we really do already have everything we need so why not buy her something that maybe she would never think of buying for herself?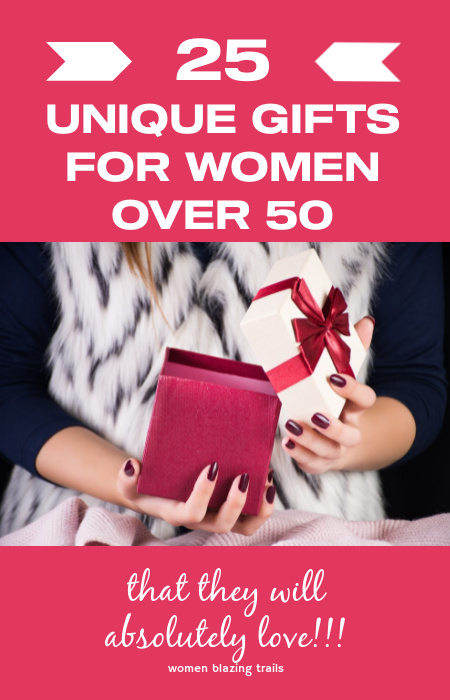 Gifts for 50 year old women who have everything
Yup. We have everything. But every now and then we will see something that looks super cool, we just don't buy it for ourselves. We're strange creatures indeed!
Trying to find gifts for the 50-year-old women who have everything can certainly be frustrating. We also have to keep in mind that many women over 50 have purged a lot of stuff and don't want to have stuff kicking around the house that they don't need. Clutter if you will. We hate clutter (or maybe that's just me?).
That's where these awesome unique gift ideas for women comes in handy! I'm here to help you. You're welcome 🙂
Gifts For Women Over 50
Without further ado, let's get to the unique gifts for women over 50. But I gotta tell ya, these are also super awesome gifts for women over 30 or 40 or 60 for that matter!! Honestly, I think any woman would love any of these unique gifts!
I did my best to try to keep these gifts under $50 for the more budget friendly shopper! I feel ya.
25 Unique Gift Ideas For Women
Some of these are rather new age gift ideas but I honestly think she will love them and you may even love them and want one for yourself! Ha! Buy two!
You can click on the link in the title or the image to check out the gift and order!
Without further ado…here we go!
Himalayan Salt Lamp– any woman who doesn't want one of these is cray! Beautiful, romantic and they have amazing healing properties!
2. Foot Massager– oh hello! I hope I'm on your list this year! Nothing says "I care about you" like a foot massager.
3. Buddha Tabletop Fountain– water fountains are perfect for calming the energy in the room and also for inviting prosperity into the house. This is a great new age gift for all the zen-like peeps on your list.
4. Shiatsu Neck Massager– 'nuff said. Everyone on your list will love this baby!!
5. Essential Oils– 20 of the most popular and healing essential oils. At this price, you should buy one for yourself too!
6. Gratitude Journal– Most women I know love journaling so I'm pretty sure the women on your list do too! For $5.99, why not get them all one?!
7. Windchimes– While the neighbours might not like these, she surely will!!
8. Essential Oil Diffuser- Why not get her the diffuser that goes with the oils?
10. Wearable Blanket– Hello cozy, my new friend! I would offer up my firstborn for one of these!! It also comes in 8 cool colours!
11. Cozy Slippers– ALL women love slippers and we're also lazy so we like the slip on kind! :p These come in a few different colours.
12. Jewelry Cleaner– Trust me, she needs this! Every woman has jewelry that needs cleaning.
13. Wine Caddy– SHE NEEDS THIS!!! And don't be surprised if she smooched you to a million pieces!
14. Buddha Groove– This is a super cool site that has tons of amazing and gorgeous pieces (jewelry, wall art, statues, etc) that she will absolutely love. You may even find some things in there for yourself!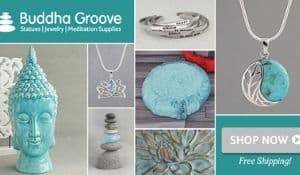 15. Herbal and Decaf Flavoured Tea– She'll love you. No doubt in my mind about this. 20 flavours 40 tea bags- now that's a great gift idea!
16. Scented Candles– We all love candles. Especially ones made of soy wax. These gift package comes in lots of fragrances that she will absolutely love.
17. Variety Pack Tea/Coffee/Hot Chocolate For Keurig– With 50 different flavours, you can't go wrong with this one. And at under $30, buy two just in case 🙂
18. Lip Balm Making Kit– for the DIY gal on your list. If she loves lip balm, she'll totally dig this! Everything she needs to make her own.
19. Ionic Facial Steamer– We're over 50. We're getting wrinkles. We're really doing our best to take good care of our skin. She needs this!
20. Godiva Chocolate Gift Box-If she doesn't want these, lemme know. I'll take them! 36 delectable little morsels of heaven. You can't go wrong here.
21. The Gift of Music – Amazon Music Unlimited Free Trial– These are kinda neat! You may want one too!
22. Kindle Unlimited Membership– Another cool thing from Amazon. Over 1,000,000 eBooks and audiobooks too!
23. Amazon Prime Gift Membership– We already know Prime is super cool. 'nuff said.
24. Audible Gift Memberships– The avid reader/listener on your list will love this!
25. Amazon Gift Card– I saved the best for last. When all else fails, just get them a gift card and they can buy their own damn present! Hahaha!
Unique Gifts For Women Over 50 Who Have Everything
I hope this Christmas (or any occasion really) gift guide has helped make your shopping much simpler! People think that it's hard to buy for the woman who has everything but really it's not.
Use your imagination and think outside the box! Remember, we don't like trinkets and cluttery things. We like useful practical gifts that have some sort of benefit and this list is full of great unique gift ideas that nail that perfectly!
Happy Shopping 🙂